3.5 million people have benefited from BBVA's social support initiatives against COVID-19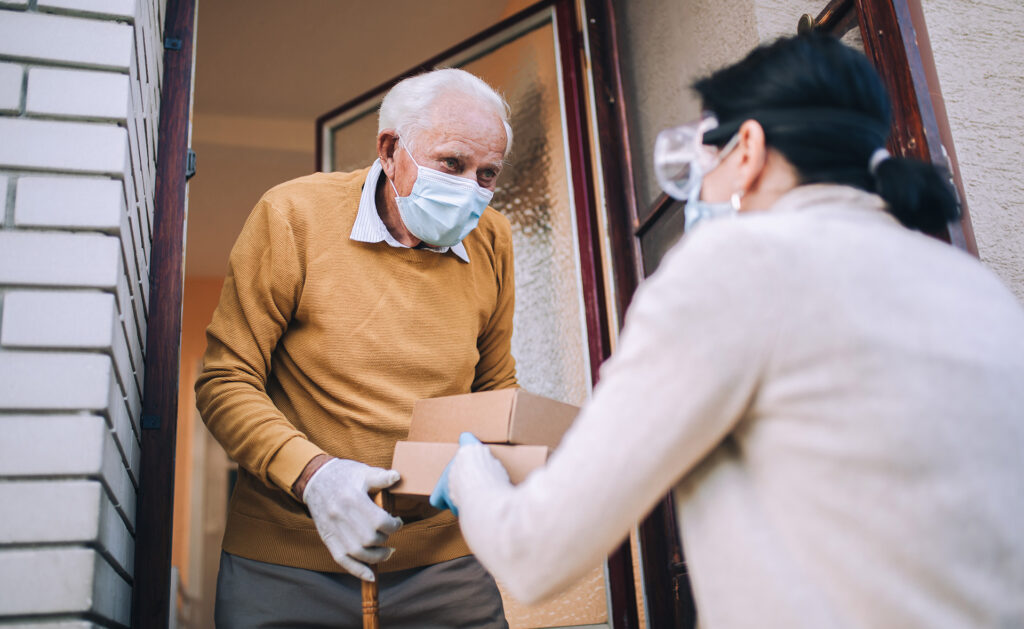 In 2020, BBVA launched its 'COVID-19 Social Response Plan' with €35.7 million to help society at large. The funds were primarily used to purchase medical equipment to support public health systems. In addition, the bank collaborated with a variety of different organizations to support vulnerable groups, and promoted research on the disease and its side effects. More than 3.5 million people directly benefited from these initiatives, rolled out on top of another batch of measures implemented to support clients and customers, including payment deferrals and government backed loans.
2020 was a special year, with severe health and economic consequences. Since the very beginning, BBVA stepped up to help the most vulnerable groups. In addition to the safety and business continuity measures and the financial support provided to businesses and individuals, the bank reinforced its commitment to help society in its fight against the pandemic. Its 'COVID-19 Social Response Plan' directly benefited 3.5 million people in 10 countries where the bank operates.
'COVID-19 Social Response Plan' 
The €35.7 million from the 'COVID-19 Social Response Plan' were used to fund three lines of action: supporting health authorities, contributing to social organizations, and promoting scientific research. These lines of action are related to three specific Sustainable Development Goals (SDGs). BBVA's contribution was channeled through its local banks in Argentina, Colombia, Spain, the United States, Mexico, Paraguay, Peru, Portugal, Turkey and Uruguay, as well as the BBVA Foundation. In order to ensure the efficient distribution of the funds, an unprecedented global response plan was designed, which included coordination with governments, health authorities and other companies and social organizations.
Medical Equipment and Supplies
The first line – linked to SDG 3 (Good Health and Well-being) – accounted for 81 percent of the contribution. The funds were used to purchase medical equipment and supplies, including 2,845 ventilators, 400 oxygenators, 2,020 tests, 9.5 million masks, 5,396 PPEs or protection kits, 144,057 goggles and face shields, 8.3 million gloves, 26,850 units of sanitizer and alcohol, 21,004 blankets and 3.7 million units of other miscellaneous medical supplies. This material helped support the work of 371 hospitals. In addition, the bank financed three field hospitals and purchased 780 electronic equipment units for patients. A total of 839,773 people — about 24% of the plan's beneficiaries — benefited from the medical equipment and supplies provided to hospitals.
Vulnerable population
The second line of the funds, linked to SDG 2 (Zero Hunger) and SDG 10 (Reduced Inequalities) accounted for 11 percent of the donation and was geared toward helping vulnerable groups. Over 2.6 million people —about 76 percent of the plan's beneficiaries— received support from the 472 organizations with which the bank collaborated, including the Red Cross in Argentina, Spain, Mexico and Colombia, and food banks in the United States and Portugal. The funds were used mainly to provide food and essential goods to those in need, as well as affective and psychosocial support, and assistance and training.
Research
The third line of funds, linked to SDG 9 (Industry, Innovation and Infrastructure), accounted for eight percent of the total donation. The funds were used to promote COVID-19-related research, and directly benefited 226 scientists or researchers. BBVA Foundation support for 20 scientific research projects in the field of biomedicine, big data – AI, ecology and veterinary medicine, economics and social sciences, and humanities specifically stand out in this regard. The bank also supported a research project in Uruguay.
The multiplier effect of the funds
In addition to BBVA's direct contributions, bank employees and customers also donated more than €11.2 million, which was also allocated to the three aforementioned lines of action. The bank launched an initiative among its employees to encourage donations to fight the pandemic, raising a total €1.8 million, which were distributed to various global and local collaborating organizations. BBVA also promoted the participation of its customers in several campaigns, raising a total of €9.4 million.
BBVA also rolled out a series of initiatives to support its customers, with a focus on companies, SMEs and the self-employed, as well as on individuals hit the hardest by the COVID-19 crisis. Among these initiatives, mortgage and loan deferrals stand out. In the countries where the bank operates, BBVA granted a total of €38 billion in payment deferrals in 2020 and financing through government-backed programs totaling €25 billion. The bank also supported its closest suppliers with protection schemes for employees and companies, and with the early payment of invoices, without waiting for the due date to arrive.