More than 265 million children are not enrolled in school;  22 percent are of elementary school age. Despite global advances made across a number of fields efforts addressing education need to be redoubled to ensure that no one is left behind. United Nations Sustainable Development Goal (SDG) 4 is summarized under the heading: "Ensure inclusive and equitable quality education and promote lifelong learning opportunities for all." BBVA is contributing to this SDG with important international social education programs.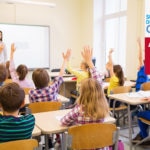 Article 26 of the Universal Declaration of Human Rights states it clearly: "Everyone has the right to education." BBVA also considers education to be the best vehicle for bringing the age of opportunity to even the most vulnerable, which is why it invested €104.5 million last year to develop social programs in the countries within its footprint. 36 percent of these programs are educational in nature and have assisted close to 2,3 millions of people.
This support, delivered jointly with the BBVA Foundation, focuses on three core tenets:
Access to education 
Financial aid is an important vehicle to provide support for children, young people and adults alike, who would otherwise not have access to education. In 2007, BBVA launched Kids Ahead (Niños Adelante), a scholarship program operating in Mexico, Colombia, Paraguay, Peru, Uruguay, and Venezuela aimed at facilitating access to education for boys and girls in vulnerable situations. In the 12 years that the program has been active, more than 720,000 scholarships have been granted. For its part, the Foundation Bancomer collaborates with the Telefónica Mexico Foundation, the Kaluz Foundation, and Mexichem in a project to reconstruct, refurbish, and re-equip 25 schools in six states in Mexico. Thanks to this initiative, more than 16,000 children and young people will be able to return to the classroom, using the tools provided to pursue a quality education.
The world's social and educational challenges have evolved, and BBVA has recognized that there is a need to also provide young people and adults with access to quality training. To this end, the bank has set up scholarship programs for young people in Mexico and for adults in several countries including the United States, Peru, and Mexico.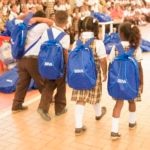 Financial aid is an important vehicle to provide support for children, young people and adults alike, who would otherwise not have access to education.
Educational Quality
Knowledge is a fundamental asset that allows people to transform lives, their own included. In their daily work, teachers perform an essential service that impacts their students' lives. For this reason, BBVA promotes social innovation in education and builds on teachers' skills by delivering training initiatives, knowledge-building, increasing visibility, and creating networks.
In 2005 BBVA embarked on an exciting journey hand in hand with the Foundation Aiding Against Drug Addiction (FAD) with the Master Class Action initiative. The goal of this project is to give visibility to the fantastic work that teachers perform in the classroom by supporting values-based educational initiatives. One of their leading activities is the Master Class Action Award, which recognizes and gives visibility to innovative, creative projects throughout Spain that have a social impact on the key educational stages: pre-school, elementary school, and high school.
Other BBVA initiatives aimed at developing teacher talent across its operating footprint include:
Teachers Academy Foundation (Turkey): Founded by Garanti in 2008, it is the first foundation in the country to focus on the personal and professional development of teachers and people working in the field of education. Its distance learning education platform eKampus has played a crucial role in improving the quality of the education in Turkey. More than 168,000 teachers have participated in their training programs.
Teach for America (United States): BBVA Compass collaborates with this non-profit organization, whose mission is to enlist, develop, and mobilize as many as possible of the nation's most promising future leaders to strengthen the movement for educational quality and equality.
Papagayo Program (Venezuela): This contest is one of the Fundación BBVA Provincial's most outstanding projects. It aims to foster values in children, through reading and creative writing. It also provides pedagogical techniques to teachers and librarians in order to help them pique an interest in reading at an early age.
Get ahead with reading (Peru): This Fundación BBVA Continental initiative seeks to raise public school students' level of reading comprehension. Teachers receive training to acquire skills to help them teach reading comprehension and are supported throughout the training process.
The Giner de los Ríos Prize (Spain): Throughout its three decades recognizing excellence in education, these awards have become a benchmark of educational innovation and have acknowledged almost 300 top-tier educational projects.
Developing competencies for the 21st century
In an era of transformation, where the landscapes are increasingly volatile and uncertain, young people of the 21st century need to develop intellectual, technological, personal, and social skills in order grow and prepare for the future. This reality is the impetus behind BBVA's Learning together initiative in collaboration with Spain's leading newspaper El País and the Santillana Foundation. The program channels its activities in two primary directions: free, inspiring audiovisual content and teaching methodologies for families and teachers worldwide. Since the first online educational course was launched in April 2018, (Much more than talk) ,more than 4,000 schools in Spain have begun working with the content provided by these complimentary and practical digital courses.
BBVA also collaborates with FAD and Google on the Connected project. This project consists of an online platform whose goal is to provide children with the tools to develop in the world of new technologies, using games, activities, and interactive videos aimed at students, their families, and teachers.
Financial education
The digital age in which we live has ushered in opportunities for lifelong quality learning for everyone. This includes the introduction of financial literacy initiatives to improve the financial well-being of society, and thus individual quality of life, personal liberty, and future opportunities.
Education is the best tool to eliminate inequality and ensure sustainable development. In the same vein, promoting financial education at an early age is a means to ensuring people are able to develop appropriately and make good financial decisions throughout their lives.  Clear examples include the Entrepreneurship School in Colombia, Values for the Future in Spain, and My first business in Argentina, which delivers financial education to children and young people with the goal of fostering social integration, instilling values, and developing entrepreneurial skill sets.
BBVA's commitment to financial education includes programs aimed at children, young people, adults, and small and medium-sized companies. The programs make a variety of tools available to their communities, from face-to-face workshops, online videos, and a whole range of tools and financial advice that improve financial knowledge and enable the acquisition of the skills that help people make better financial decisions, thus providing them with more and better opportunities.
For ten years BBVA has delivered educational programs in all the countries within its operational footprint. Through internal programs and in collaboration with third parties, it has pursued the goal of spreading knowledge of financial concepts and changing the behavior that influences financial decision-making. Since 2008 more than 13.4 million people have benefited from the Global Financial Education Plan.
The BBVA Microfinance Foundation promotes financial education and the development of financial skills and other competencies related to managing small businesses like those of its customers. In Chile, the Hope Fund trains all its clients in its Entrepreneurship School. In Colombia, Bancamía delivers financial education by giving customized advice and arranging workshops. And in Peru, Trusted Finance develops financial education initiatives for groups of entrepreneurs who are especially "vulnerable."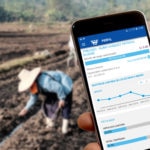 The BBVA Microfinance Foundation promotes financial education and the development of financial skills and other competencies related to managing small businesses like those of its customers.
Pledge 2025
Pledge 2025 is part of BBVA's commitment to the United Nations Sustainable Development Goals (SDGs). The SDGs are a universal cry, calling for the adoption of measures to end poverty, protect the planet, ensure that all people enjoy peace and prosperity and have equal access to inclusive, quality education. Included among the priorities defined by the 17 goals are domains such as climate change, economic inequality, innovation, sustainable consumption, peace, and justice. On the whole, given its wide range of businesses BBVA contributes to all the SDGs, with both its global presence and the ever-active BBVA Microfinance Foundation.