Carlos Torres Vila: "We must take advantage of this new period of growth to transform our economy"
Carlos Torres Vila today opened the 38th APIE Seminar in Santander together with Nadia Calviño, Second Vice-President of the Government and Minister of Economic Affairs and Digital Transformation. During his speech, the BBVA Chairman highlighted that, after a weak and uncertain start in 2021, the outlook for growth is now very positive. "We all expect a strong rebound in the economy in the second half of the year," he said. In his opinion, the economic recovery and the arrival of European funds put Spain in an excellent position to face the challenges of the productive model transformation. "We must take advantage of this new period of growth to transform our economy and that means preparing ourselves for a world that is undergoing radical change, preparing ourselves to face the challenges associated with that change, and to capitalize on the unparalleled opportunities that are opening up on the horizon," he stated.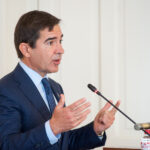 Carlos Torres Vila began his speech by noting that vaccination is progressing at a good pace in Spain, which allows us to be more optimistic than just a few months ago. The data available for the second quarter point to an almost 20 percent year-on-year growth and,  if there is a greater than expected recovery in tourism in the third quarter, the year-end data could beat all projections, taking growth this year clearly above 6 percent and 7 percent in 2022. These improved projections are mainly supported by a recovery in private consumer spending and investment, which will be boosted by expansive monetary and fiscal policies and funds from the European recovery plan, which will add about a couple of percentage points per year on average to Spain's GDP in 2021 and 2022. "The indicators show us that we are moving in the right direction towards economic recovery and towards a new period of growth," he stressed.
The BBVA Chairman pointed out that, looking to the longer term, there is a need to take advantage of this new period of growth to transform the economy. "We are in an era of massive and accelerating change, with a huge disruptive impact," such as the decarbonization of the economy, automation and robotization. All these technologies and trends will have an enormous impact on society and the economy, in all sectors, in all areas of life. These are changes for which we must prepare, investing, educating, restructuring sectors of the past and building those of the future, those in which new technologies and businesses will be the source of employment. "This also applies to the financial sector, which will continue to transform at an increasing speed, accompanying the change in our customers' behavior, which has accelerated during the pandemic," he said. Digital transactions have more than doubled since 2018 at BBVA in Spain, while branch transactions have fallen by 50 percent. Moreover, there was a 64 percent increase in digital customer acquisition over total new customers in 2021's first quarter compared to the previous year.
In his opinion, decarbonization is history's most significant upheaval, because it entails profound changes in many aspects of life, not only in energy sources, but also in materials and how they are manufactured "and in the way we live, consume, move and even how we feed ourselves." Achieving decarbonization requires innovation in a countless fields and requires large investments that, at the same time, represent an enormous opportunity.
"We have numerous opportunities in energy transition for the Spanish economy. Many existing activities will have enormous growth and new ones will emerge with a great value," he said. "Spain has a competitive advantage for the development of renewable sources: wind, solar, the new petroleum, we also have the surface area to install these renewable sources." He then added: "We are facing an era of enormous changes, which, as we like to say at BBVA, is a true age of opportunity."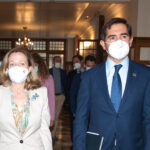 Nadia Calviño, Second Vice-President of the Government and Minister of Economic Affairs and Digital Transformation, and Carlos Torres Vila, BBVA Chairman.
According to Carlos Torres Vila, the next few years will be crucial for taking advantage of opportunities like these and laying down the foundation for a new growth model, which must be built by developing the sectors of tomorrow. Thanks to ideal timing and investments driven by the Recovery and Resilience Plan, this commitment to continue modernizing the economy and society remains firm. Here, the private sector must play a fundamental role in invigorating and multiplying the plan's public funds. "In any economy, private investment is a key factor for long-term growth and for generating well-being and employment and it's especially necessary in the current situation," he said.
The BBVA Chairman said that Spain needs to advance in structural reforms in order to increase the effects of the funds, as indicated in the Spanish recovery plan and by the European Commission. He specifically referred to reforms in the field of education, an engine of growth and equality, to prevent Spain from continuing to be one of the EU countries with the highest percentages of school failure and early dropout rates. In addition, he advocated for investing in the training of active workers with a greater involvement in business organizations, recycling, and especially in new technologies. Added to this are the need for employment improvements which allow for more flexibility and security. This will allow for the reassignment of workers to not only booming sectors and companies, but ones with digital models, or businesses based on data and artificial intelligence, and clean energy efficiency.
Reforms like these will be key to reducing inequality and creating opportunities for everyone. "Investment in human capital profits both people and society the most. This is particularly true for private and financial sectors, where we have to assume our responsibility by playing a very relevant role in this process," he stressed. This is accomplished by first promoting employee training and internal mobility programs with a special focus on digital skills and abilities. Second, by fostering digital inclusion to ensure that no one is left behind. "And of course, contributing to the challenge of sustainability by managing our own emissions, and above all, assuming net zero commitments with our customers´ and suppliers´ businesses," he said.
Carlos Torres Vila pointed out that the financial sector can play a fundamental role in the economy's transformation by enhancing the impact of European funds. Specifically, the financial sector can support the channeling of European funds and amplify them with additional financing to its clients, for whom they can also help through advice and support in adapting their businesses to society's enormous transition process. As he explained, investing in change, in new technologies, digitization, and sustainability, is an opportunity for all of them. "Aware of our societal responsibility, banks want to contribute to this process by taking another step forward in order to help our clients," he concluded.