BBVA's executive chairman, Francisco González, believes that the success of a company's transformation is directly related to employee talent. "To have excellent people is a must" he said at the South Summit, an event held in Madrid this Wednesday. "If you don't have the best people, it's impossible to advance."
Together with John Ridding, CEO of the Financial Times, Francisco González participated in a discussion at the South Summit "enlightED" conference about how technology reinvents professions. The session was moderated by Santiago Íñiguez, President of IE University.
One of the subjects raised was the role of talent in a company's transformation. In the opinion of BBVA's executive chairman, companies need "the best talent in key competencies, but also the best talent with the new skills required for a transformation." He also believes that the most difficult part of this process is the cultural change, for the current employees and for the new talent who join the company and contribute to a new way of doing things. "Now our main team is a mix of both, bankers and engineers," said González. But the biggest shift has been in that "now people feel they are part of this common project, which is changing the banking system globally."
"Now our main team is a mix of both, bankers and engineers"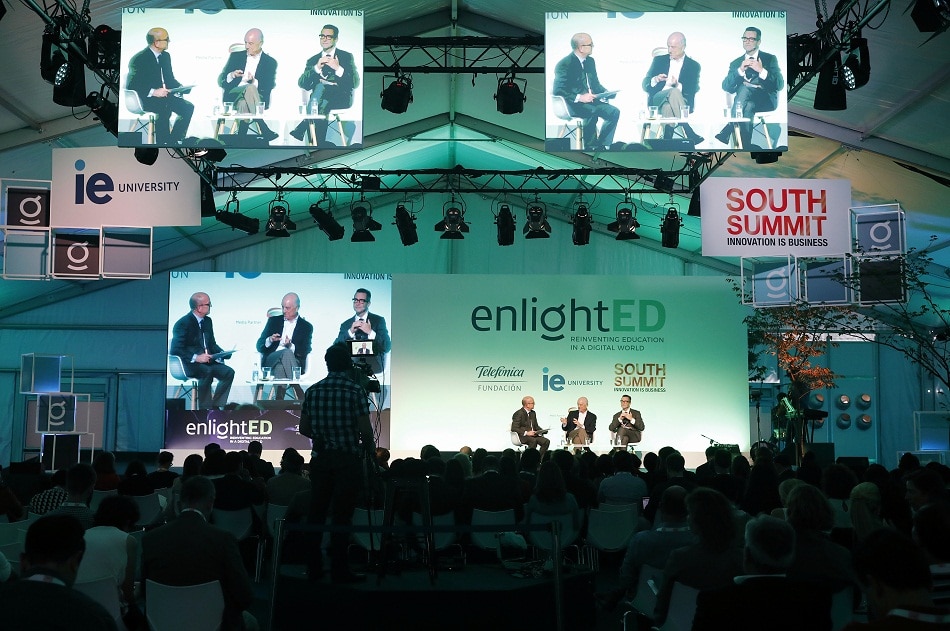 Francisco González, during his intervention at South Summit. - BBVA
The discussion also touched on the lessons learned by the financial sector in the last decade of technological change. The BBVA chairman thinks it has been fundamental to have clear vision and the foresight to execute on it.
In conclusion, he referred to regulation as a crucial element in ensuring a level playing field between the technological giants and banks. "The legal architecture we have today, it doesn't cope with this new reality," he said. In this sense, he underscored the need for collaboration between regulators and the private sector to adjust regulations to the new ecosystem of digital competitors.