NEWS BBVA.COM | BANCOMER | MEXICO
Credit rating agency Fitch has upgraded BBVA's senior preferred debt long-term rating by one notch to A from A-. Fitch has also affirmed the Group's long-term Issuer Default Rating at A- with a negative outlook, thanks to the strength of the bank in Spain and the resilience of its Mexican franchise.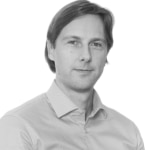 Javier García Tolonen
Financial Regulation
John Rutherford
BBVA's Head of Global Public Finance
At his first Annual General Meeting (AGM) as Group executive chairman of BBVA, Carlos Torres Vila was re-elected as a Board member with more than 98 percent of the votes.