Almost seventy years since it was first recognized as a universal right, in 1948, gender equality is still far from being a done deal. Indeed, despite representing 50% of the labor workforce, women are responsible for just 37% of the world's GDP. According to the World Economic Forum, a series of measures are expedited, economic gender equality will not be achieved for another 170 years.
For the first time ever, there is broad international consensus about the urgency of making progress towards gender equality: Goal 5 in the UN's Agenda 2030 for sustainable development is the achievement of gender equality and empowering of all women and girls. The universal nature of the Sustainable Development Goals represents a call to all countries (irrespective of their level of development) that requires the involvement of agents on all sides of the social spectrum, including the private sector. The BBVA Microfinance Foundation is committed to the UN Agenda, is a member of the SDG Fund's Private Advisory Group and was recently granted consultative status with ECOSOC.
This non-profit organization, created in 2007 by BBVA Group within the framework of its CSR efforts, provides support to the business initiatives of over one million vulnerable women in Latin America (60% of its total portfolio).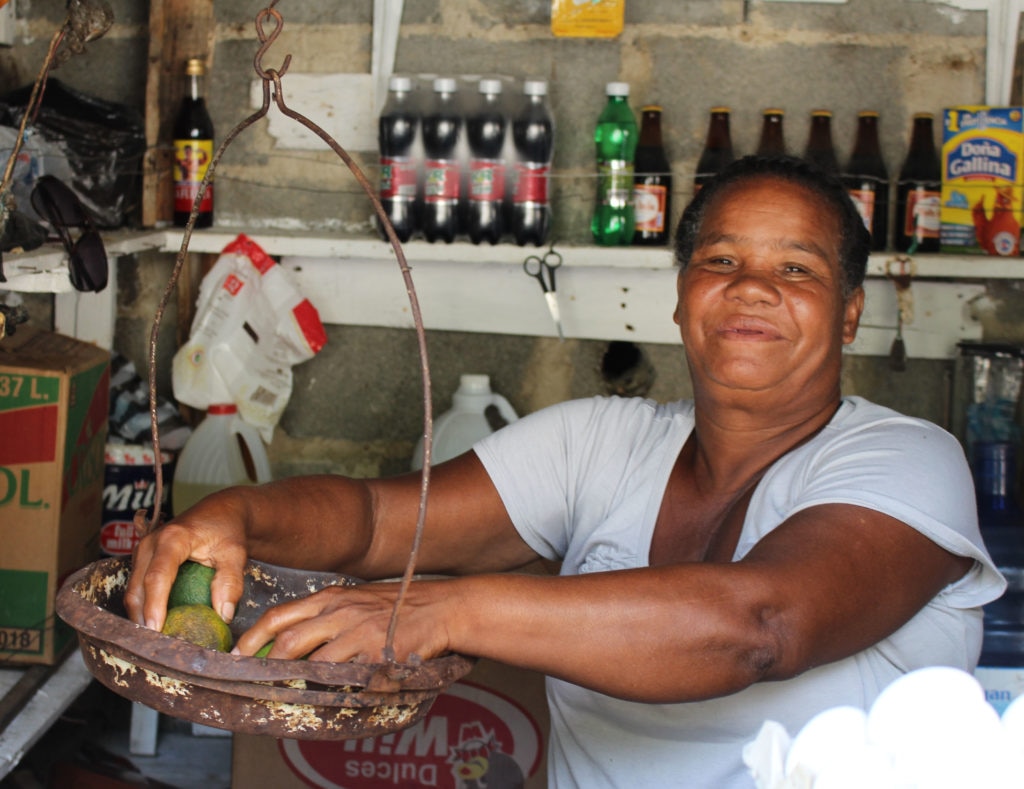 The BBVA Microfinance Foundation provides support to over one million vulnerable women in Latin America
Latin America, the region with more female entrepreneurs in the world
According to CEPAL, in Latin America, female labor participation rate stands at about 50%, compared to 80% of male labor participation. Half of the female population lacks a source of personal income or make less than the minimum wage, compared to 30% of the male population.
Entrepreneurship is, in many cases, the only option for overcoming the lack of job opportunities because, for many women, the only alternative is informal employment (in Latin America, according to UN Women, 60% of women are in informal employment). That is why the percentage of female entrepreneurship in this region is the world's highest. And, even if the gender gap is not particularly wide – for every ten male entrepreneurs there are eight female entrepreneurs – women are much more likely to set up their business out of necessity, not to seize an opportunity.
"I decided to start my own business because, when my son was a little kid, I wanted to spend more time with him and with my family
This is the case of Bienvenida, Faustina, Viviana or Carmen. All of them entrepreneurs and beneficiaries of the BBVA Microfinance Foundation. They were all forced to set up a business to provide for their children and offer them an opportunity to enjoy a better future. "I decided to start my own business because, when my son was a little kid, I wanted to spend more time with him and with my family," said Carmen, an entrepreneur supported by Fondo Esperanza, BBVAMF's branch in Chile.
According to the Global Entrepreneurship Monitor (GEM) women are a driver of economic growth: they invest in their communities, educate their children and are more likely to help others with the money they make. Also, and oddly enough, according to the BBVAMF Impact Measurement Department, although they invest 50% less capital in their businesses, they are 20% more profitable than men's businesses. In fact, seven of every ten beneficiaries that are able to pull out of poverty are women.
In the words of Laura Fernández Lord, head of Female Empowerment at BBVAMF, women act as "true catalysts of economic and social growth in a country, because they invest in the human capital of future generations."
"Women invest in the human capital of future generations
Bienvenida is an entrepreneur from the Dominican Republic. She opened a store because it was the only way she had to make a living while taking care of her kid. Once he started going to school, she decided to pursue her undergraduate studies to become a teacher. "If we don't dream, if we do not challenge ourselves, we will never achieve anything," she says. Given the lack of schools in her community for children, she applied for Banco Adopem's support to open a school. Today, over 800 pupils study in her school. When she started, she only had 12 students. "We need to dream, work hard, and fight to achieve our goals," she says proudly.
Just like her, over one million vulnerable women are striving to make their way in an environment that often makes things too hard for them. According to the GEM, female entrepreneurs have to overcome more hurdles than men. Besides being responsible for the domestic chores, they have a lower level of education, lack capital and assets, a lower social status and a lack of confidence that is actively promoted by their societies.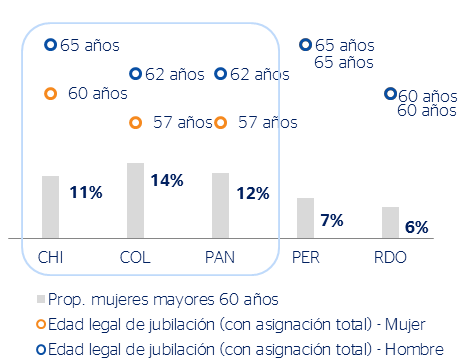 Proportion of female entrepreneurs over 60 years of age and age of retirement
Entrepreneurship as an alternative to retirement
In Latin America, negative discrimination at the age of retirement drives many women to become entrepreneurs after they turn 60, due to the lack of savings. Having worked for less years and for a lower wage (the average income of BBVAMF female beneficiaries is, in average, 25% lower than that of their male counterparts), many of these women often lack the contributory basis to receive a decent retirement pension. This fact explains why, unsurprisingly, the region is home to the highest percentage of female entrepreneurs aged 45-64, according to the GEM.
"Empowering women means giving them control and the capacity to decide over their own lives
"Empowering women means giving them control and the capacity to decide over their own lives," says Laura Fernández Lord who will participate this week in the 61st session of the Commission on the Status of Women that will be held in the United Nation's headquarters which will focus on the priority theme of women's economic empowerment in the changing world of work.
11% of the women benefitting from the BBVA Microfinance Foundation are over 60 years of age. The impact of this group of people in their community is tremendous, because 78% of them provide not only for themselves, but also for dependents, and almost half of them are solely responsible for these duties. According to the United Nations, there are 901 million people in the world aged 60 or more (12% of the world's population). This population is expected to soar past the 2.1 billion mark by 2050, an increase that should be accompanied by initiatives to prevent age from becoming a negative factor when applying for a loan, and to allow older women in regions like Latin America to also think about their retirement without being forced to become entrepreneurs.