Young people and the elderly, the most affected by the lack of financial education in Spain

A large percentage of the Spanish population is not familiar with some basic financial concepts that are essential for making investment or borrowing decisions. This was one of the key takeaways shared by Pablo Hernández de Cos, Governor of the Bank of Spain, during his presentation at EduFin Summit 2019, the yearly leading global financial education summit organized by the BBVA Center for Financial Education and Capability.
Focusing mainly on the situation of financial education in Spain, Pablo Hernández de Cos' presentation during the event, held in Madrid on July 11 and 12, revealed some worrying data in this regard. As explained by the governor of the Bank of Spain, a very large group of people in Spain are not familiar with basic concepts such as inflation, compound interest rate and risk diversification. This also happens outside of Spain: "The low level of financial literacy is not an exclusive trait of our country. It is indeed quite widespread".
Financial education is vital because "it aims, precisely, to ensure the existence of a population capable of making responsible financial decisions throughout their lives, and that everyone is aware about their rights and obligations as users of financial products," said Hernández de Cos. However, according to the data he shared, taken from the Financial Skills Survey – a joint initiative by the Bank of Spain and the Spanish National Securities Market Commission within the framework of the Financial Education Plan and included in the National Statistical Plan – there is still a lot of work to do.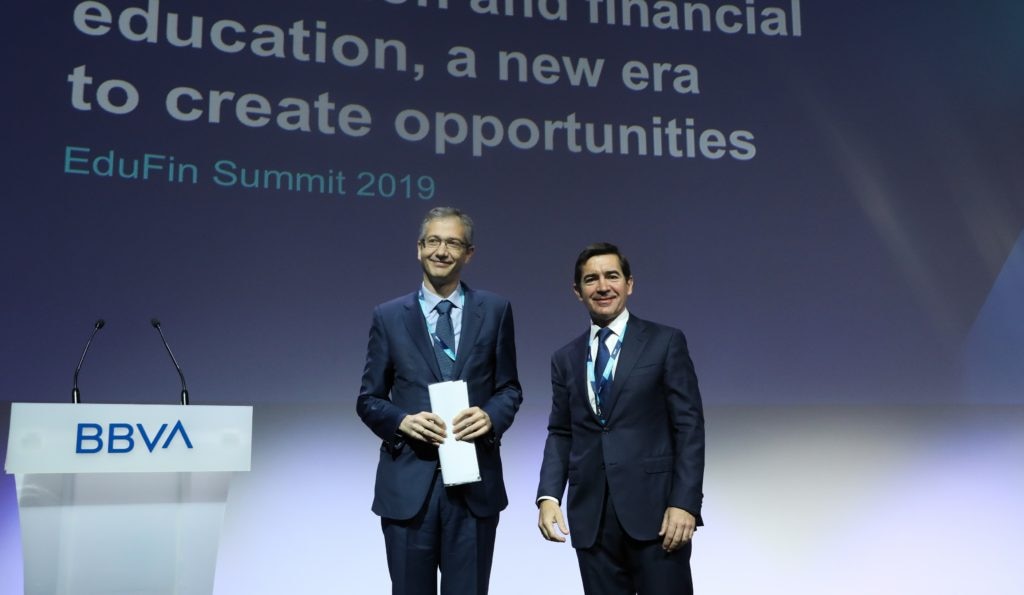 Pablo Fernández de Cos with Carlos Torres Vila, president of BBVA, during the BBVA EduFin Summit 2019.
The percentages are striking: 42 percent of respondents did not understand the concept of inflation; 46 percent were not familiar with the compound interest concept and 49 percent did know what risk diversification was. The survey revealed two important aspects: respondents with higher education levels showed higher levels of financial knowledge and the financial education levels are lower among the youngest and eldest (above 65) age groups.
The situation of young people 
While one in every five participants correctly answered three questions related to the three aforementioned concepts, in the case of young people, only 1 in 8 got the answer right. The level of illiteracy was also prevalent in questions regarding day to day finances: 6 percent of respondents said they were not familiar with the idea of household finances. In the 18-35 age group, this percentage was three times higher. The reason could be because young Spaniards become independent when they're relatively old.
The lack of training among younger generations affects some of the key decisions that affect everyone's financial lives, such as when buying a home: "A high percentage of the young respondents are unaware of the effect of a change in the inflation rate on the real value of the payments of a fixed-rate mortgage. Since it is typical for people within this age group to take out mortgages, the situation poses a serious concern regarding whether they are taking all relevant financial factors into account when financing the purchase of a home."
Solving this, according to Hernández de Cos, would require "developing nationwide strategies to boost financial education levels." In this sense, the Bank of Spain's commitment has crystalized in a series of student training actions that have yielded positive results. The Bank's strategy is based on three principles: "generality (not excluding anyone ), cooperation and continuity over time". The Governor referred to the systematic assessment of the adopted measures as something "crucial" to ensure their effectiveness and pointed out that the responsibility for this is something that all institutions share: "All institutions must contribute, within our areas of activity, to move forward in this field. In this sense, Hernández de Cos concluded his presentation with firm commitment: "The Bank of Spain will continue promoting financial education."