BBVA Chair Carlos Torres Vila said "Onur Genç is exceptional as a person, exceptional as a professional and as a team leader, and the bank's excellent results are proof of that" with "an outstanding performance in all areas". "This is the unanimous view of the BBVA Board. In short, we could not have a better CEO than Onur." At an event in Madrid organized by the Spanish business association APD and Kearney, Torres Vila said some media reports speculating over a possible change of CEO were "a complete fabrication."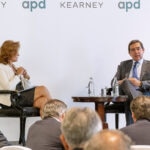 During the talk, he also referred to BBVA's growth strategy. "If we compare the current situation with the one five years ago, the relative value of inorganic operations has fallen sharply because we now have a digital path to acquire customers". "The efforts involved in the integration of another bank make deals less attractive, in relative terms," he said. "In this regard, we see our strategy as much more focused on organic growth, leveraging technology in the countries where we already have a presence and in new ones." On this matter, Carlos Torres Vila recalled the launching of the Italian operations a year ago, thanks to the capabilities of BBVA in Spain. It is a model "we can replicate in other markets," he added.
Regarding the European banking market and possible cross-border mergers, Carlos Torres Vila said that the lack of a real banking union and the limited added value from synergies make cross-border deals less likely.
He also discussed the global economic context, which he described as "the most challenging in recent decades" due to the uncertainties caused by the invasion of Ukraine, such as supply bottlenecks, rising commodity prices, the gas crisis in Europe, high inflation and the tougher monetary policies to contain prices.