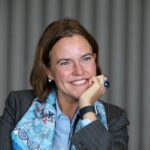 Luisa Gómez Bravo, currently BBVA's Global Head of Corporate and Investment Banking (CIB) — the bank's wholesale banking department — has an extensive track record in banking. After graduating in law and business administration at ICADE in Madrid, she worked for several years in London for American investment banking firms and in 1998 she moved to BBVA. Since then, she has held various management positions at the bank, and at the end of 2018, she was appointed head of the investment banking unit.
She is passionate about broadening her professional experience by taking on new challenges that arise each day. "I like spreading this enthusiasm and ambition to the BBVA CIB team because I believe that we have a great culture of leadership and an enormous capacity to take on the challenges and opportunities that lie ahead," she says.
Luisa demonstrates this same passion in her personal life. She enjoys spending the weekends with her husband and four children, ensuring she gets as much quality time with them as possible.