Corporate information
Letter from the Group Executive Chairman
Dear shareholders,
It is an honor for me to address you as Chairman of BBVA for the first time. My appointment and other recent changes to the management team will provide continuity to our strategy and an even greater focus on our Purpose: to bring the age of opportunity to everyone. This is what moves all of us at BBVA. The Purpose guides our strategy and inspires our culture and values. It is what ultimately enables us to achieve better financial results for our shareholders with a long-term vision.
BBVA's excellent results in 2018 are a good example of our successful strategy, despite the volatility in some of the countries within our footprint, namely Turkey and Argentina. Our net attributable profit reached €5,324 million in 2018, a 51% increase over 2017 (or 7% in comparable terms) — an achievement driven by recurring revenues, cost containment, and the capital gains from the sale of BBVA Chile. The book value per share increased 10.1% and the return on tangible equity stood at 14.1%, positioning BBVA as a leader in profitability in the financial sector. The Group's fully-loaded CET1 ratio ended the year at 11.34%, 26 basis points above December 2017.
In addition to achieving excellent financial results, in 2018 we also worked to address the big challenges facing society today. We are living in a truly revolutionary age, driven by the rapid emergence of new technologies, such as artificial intelligence, cloud computing, the proliferation of connected devices, decentralized applications, blockchain and biometrics, to name a few. All of this represents a genuine era of opportunity for humanity, but there are also significant social and environmental challenges, such as the fight against climate change and inequality. Challenges that are global in nature and that require everyone's involvement, including banks as important players in the economy. We can make a difference by financing socially sustainable projects and providing financial advice to help people achieve their life goals.
This is why I specifically want to emphasize our contribution in the face of these challenges. In 2018, in addition to our commitment with the United Nations Global Compact, we publicly embraced the Pledge 2025, our commitment to sustainable finance, which is based on three central pillars. First, a commitment to finance sustainable development, mobilizing €100 billion through 2025 to combat climate change, facilitating the transition to a low-carbon economy, and promoting sustainable infrastructure, financial inclusion and entrepreneurship. Second, a commitment to manage the impact our business activity has on the environment. Our commitments include reducing CO₂ emissions by 68% by 2025 and reaching 70% use of renewable energy. Lastly, actively engaging other stakeholders to promote a collective approach to sustainable development.
In 2018 we played a defining role in the development of the Principles for Responsible Banking, together with 16 other financial institutions. These principles represent the guiding framework for financial institutions — a new approach to banking that society both demands and needs. Our success ultimately depends on the prosperity of the communities we serve. We need an inclusive society, one that takes a sustainable approach to natural resources.
In addition to promoting sustainable development and contributing to the generation of wealth, growth, and individual prosperity, the BBVA foundations make an invaluable contribution to society. The foundations undertake an important work in economic, cultural, and scientific fields, such as promoting the development of vulnerable segments of the population. Other examples include BBVA Foundation's prestigious Frontiers of Knowledge Awards, BBVA Bancomer Foundation's program to rebuild schools and its scholarship program "Por los que se quedan". Additionally, the BBVA Microfinance Foundation has worked on creating opportunities for the most vulnerable, especially women for over ten years. This final example is in fact the private philanthropic initiative that has had the greatest social impact in Latin America, successfully supporting more than five million entrepreneurs over the past ten years.
Technology and the considerable changes taking place in the World are clearly having a significant impact on our business. Opportunities are increasingly found in the digital world. At BBVA we have been pioneers, and we continue to be at the forefront with our commitment to digital transformation. Thanks to these efforts our customers increasingly interact with the bank through digital channels, which are always available and more convenient than ever thanks to our simple, intuitive user experience.
Our business is changing both profoundly and quickly. These changes are exemplified by our increasing digitization. In 2018, 41% of BBVA Group unit sales were made through digital channels, compared to just 16% two years ago. In terms of value, digital sales account for 32% compared to 12% two years ago. This significant transformation is not only reflected at the Group level, but represents a trend that is repeated in each of the countries where we operate.
The evidence shows that customers who use digital channels interact with us more frequently, and report greater satisfaction and loyalty to BBVA. In 2018 we achieved a key milestone: our digital customer base surpassed the 50% threshold, reaching 27 million. The bank's mobile customer base has increased by 29%, reaching 23 million mobile users, or 43% of total customers. Our goal is to have more than 50% our customers interacting with us through their smartphones in 2019.
Beyond the important changes in the way customers interact with us, the new era in which we live enables us to create opportunities through an even better value proposition. The focus is on helping people and businesses make better financial decisions that help them better achieve their personal and professional goals. The way we treat our customers' data and the use of artificial intelligence are fundamental ingredients in this enhanced value proposition.
In 2018, we developed new features that use data to help anticipate problems, draw conclusions, and make better recommendations; ultimately to offer our customers value-added services. As a result, BBVA Spain's mobile banking app was recognized as the best in the world for the second year in a row by consulting firm Forrester Research. BBVA Turkey's app ranked second in the same study. Among other distinctions, we were recognized as the best digital bank in Spain, Mexico, and Turkey according to World Finance magazine's Digital Banking Awards.
Our business transformation is undoubtedly tied to how we do things internally. For this reason, the way we work is also changing, driven by the necessary cultural revolution in this new age. We are leaders in the financial sector in the adoption of agile methodologies, which has transformed the way the entire organization works, using independent, multi-disciplinary teams. By working in this manner, we have managed to improve the quality of our deliverables, reduce time-to-market, increase productivity and enhance employees' sense of belonging. There are currently some 30,000 people at BBVA using agile methodologies in their daily activities.
Most importantly, beyond changing the way we work, BBVA's culture remains deeply rooted in a strong set of values. We have always considered this to be one of our biggest strengths. BBVA is a honest bank, and we will always act in the best interest of our shareholders showing absolutely no tolerance for any conduct or behaviour that runs counter to our values.
The three values guiding our actions and behaviors are:
"The customer comes first", meaning we are empathetic and put ourselves in the customer's shoes. We are, and have always been, principled and resourceful and are fast agile and decisive when solving customers' problems and addressing their needs.
"We think big", not just in the sense that we are ambitious, but also because we break molds. We innovate and promote change in the statu quo, amazing customers with unique personal experiences and solutions that beat their expectations.
"We are one team", personally committed to the bank, the project, and our customers. There is mutual trust, a sense of ownership and a feeling that we all are BBVA.
In conclusion, I am tremendously proud to be leading what I believe to be the greatest project in the world of banking. A project that is possible thanks to each and every one of the more than 125,000 people who work at BBVA. I would like to thank them for their dedication and commitment to our Purpose and our values, and congratulate them on a job well done.
Finally, thanks to you, our shareholders, for your constant support, which motivates us to continue giving our best every day.
Letter from the Chief Executive Officer
Dear shareholders,
BBVA posted strong results in 2018. Our diversified business model has once again proved its resilience and capacity to generate recurring income with double-digit returns, despite a complex environment with high volatility and significant depreciation of currency in some footprint countries.
The global economy grew by 3.6% despite increased volatility and trade tensions. In our footprint, performance varied among countries. We saw positive trends in Spain, with growth of 2.5%, which was above the Eurozone average, and in the United States, the economy grew by 2.9%, driven by expansionary fiscal policies. Growth in our U.S. Sunbelt footprint was 3.2%, higher than the country's average. Mexico maintained solid growth of more than 2%, which was strong in a year influenced by presidential elections. Colombia and Peru also showed strong growth of 2.6% and 3.9% respectively. In Turkey and Argentina, volatility was high and BBVA faced significant currency devaluations, although there was some improvement in the last quarter of the year.
BBVA Group's net attributable profit in 2018 was €5,324 million, representing a 51% increase versus 2017 (7% increase on a more comparable basis). The net attributable profit was impacted by the capital gains realized from the 2018 sale of BBVA Chile and the 2017 impairment of the Group's stake in Telefónica.
Tangible book value per share plus dividends increased by 10.1% over the year, despite the depreciations in the Turkish lira and the Argentine peso. This increase is accompanied by peer-leading double-digit returns in both return on tangible equity and return on equity, which were 14.1% and 11.6% respectively.
Also of note is the trend in recurring revenue, 10.4% growth in the year in constant Euros (without accounting for the impact of the exchange rate) and discipline in cost control, which grew by just 2.5%, well below the average inflation of our footprint. This trend was repeated consistently across our geographies. Because of this, the efficiency ratio of the Group has improved by 89 basis points to 49.3%, despite the negative accounting impact the hyperinflation adjustment in Argentina had on gross income.
One of the keys to efficiency improvement has been making our business more digital, which has increased sales in a very efficient manner. It also has an impact on customer satisfaction and we are leaders in six of our banking franchises, which has a direct effect on improving customer loyalty and reducing attrition.
The strength of the Group's risk indicators must also be highlighted, with the NPL ratio improving significantly, ending 2018 at 3.9%, down 61 basis points compared to 2017. The NPL coverage ratio improved 812 basis points over the year to 73%. The Group's cost of risk remained low at 1%.
The resilience of our capital position from a solvency standpoint is also worth to mention. The fully loaded CET1 ratio was 11.34% in 2018, an increase of 26 basis points over the year. This has been achieved, despite the impact of market trends, particularly the depreciation of some currencies and the first implementation of the IFRS 9 standard.
The most notable impacts in the main business areas included the following:
Banking activity in Spain: Net attributable profit grew 10.8% to €1,522 million driven by fees, significant costs reduction and lower impairments. In terms of asset quality, we saw a significant declining trend in our NPL ratio and the cost of risk, which were 4.6% and 0.21% respectively.
In Non-Core Real Estate, the significant reduction of net real estate exposure stands out, as a result of the October close of the sale of BBVA's real estate business in Spain to Cerberus, as well as other portfolio sales during the year. Net losses were significantly reduced to €78 million.
In the United States, net attributable profit was €735 million, 56.9% higher than 2017 in real terms, primarily supported by the favorable performance of net interest income.
In Mexico, net attributable profit for the area was €2,384 million, representing a year-over-year increase of 16.1% in real terms, supported by the net interest income and efficiency improvement. Risk indicators were strong, with all ratios showing improvements.
In Turkey, the bank again demonstrated its capacity to generate high pre-provision profit that can absorb the increase in provisions derived from the deterioration in macroeconomic conditions. Net attributable profit was at €569 million, representing a year-over-year decrease of 4.5% in real terms.
South America generated a net attributable profit of €591 million in 2018, which represents a year-over-year change of -16.5% mainly due to the accounting impact of hyperinflation in Argentina (-€266 million) and the change in the business unit composition derived from the sale of BBVA Chile, which closed in July 2018.
Finally, I want to heartily thank the more than 125,000 employees in the Group for their effort and enormous contribution to the Group's performance. Also, thanks to you, the shareholders, for your constant support which drives us to fulfill our Purpose of bringing the age of opportunity to everyone.
History of BBVA
The history of BBVA is the history of the many different people who have been a part of the more than one hundred financial institutions that have joined our corporate endeavor since it originated in the mid-19th Century. Today at BBVA, we work to create a better future for people, seeking to build long-lasting relationships with our customers that change our way of looking at the business. As a result, BBVA has become a global leader and one of the world's most renowned and award-winning banks.
BBVA is firmly committed to the future and is a pioneer in adapting to the needs of an increasingly global market and especially, to the banking industry of the 21st Century.
More than 160 years of experience support this commitment.
The beginning
The history of BBVA dates back to 1857 in the city of Bilbao, in northern Spain, where the Board of Commerce promoted the founding of the Banco de Bilbao as an issuance and discount bank. This was a pioneering initiative that was driven by the economic growth in the region. Until the end of the 19th Century, it was the city's only bank.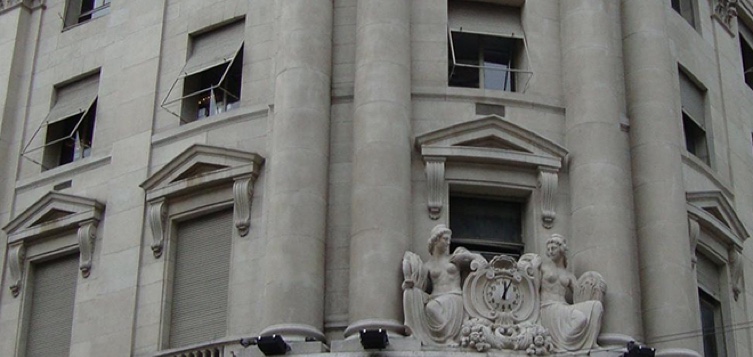 In the second half of the 19th Century, Banco de Bilbao financed several important infrastructure and steel industry projects. In 1878, it lost the right to issue its own banknotes and was restructured as a loan and discount bank. Banco de Vizcaya was founded in 1901; it carried out its first transactions in Bilbao and little by little, began to expand throughout the country. Apart from its activity as a commercial and depositary bank, Banco de Vizcaya took part in the creation and development of a large part of Spanish industry. In 1902, Banco de Bilbao and the Banco de Comercio merged, although both institutions maintained their status as legal entities.
In 1909, Caja Postal was created as a public-law entity and in 1916, it began to issue and administer savings account passbooks..
A consortium of bankers and industrialists founded the Banco de Crédito Industrial (BCI) in 1920, for the express purpose of promoting the installation and consolidation of industry by granting long-term credits. Banco de Bilbao and Banco de Vizcaya were part of that consortium.
In 1923, the National Agricultural Credit Service was created. A dependency of the Agriculture Ministry, it granted credits to agricultural and livestock associations, under the joint and several responsibility of its associates.
The expansion
During the economic development of the 1960s, Banco de Bilbao expanded, acquiring other banks and starting to create a financial group. Meanwhile, Banco de Vizcaya continued to grow and establish itself as a modern, universal bank and an important financial group. More flexible rules on opening offices allowed it to expand its commercial network.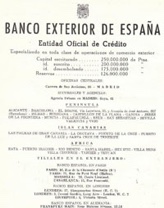 Caja Postal added more customer services, including checking accounts, stock purchases/sales, and lending in certain areas. The 1962 Banking Law nationalized BCI, BHE and BCL and transformed the National Agricultural Credit Service into the Banco de Crédito Agrícola (BCA). All four banks became entities governed by public law. But in 1971, they became official credit institutions (under the Law Regulating Official Credit) as limited companies.
In the 1980s, Banco de Bilbao based its strategy on reaching a size that would allow it to access the financial business that was then emerging from the technological advances, deregulation, securitization and the interplay between national and international markets. Banco de Vizcaya contributed to the rescue of banks that were affected by the economic crisis and developed a policy of strong growth through acquisitions, which led it to create a large banking group. Its most significant operation was its purchase of Banca Catalana in 1984.
Meanwhile, the official credit institutions continue to expand their business with market operations. In 1982, BEX lost its exclusivity of export credit, redirecting its business to universal banking, and formed a financial group. It acquired Banco de Alicante (1983) during this process. In 1988, Banco de Bilbao and Banco de Vizcaya agreed to a merger to create BBV.
Corporación Bancaria de España was established in 1991 as a state-owned enterprise and credit institution with the status of a bank. Its history began with a federated banking model, but in 1988 Corporación Bancaria de España (now privatized through public offerings), BEX (merged with BCI), BHE and Caja Postal merged into a single bank under the brand Argentaria.
BBVA unified its network of offices in Catalonia in May 2013 after the acquisition of Unnim Banc was complete.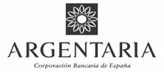 The merger of BBV and Argentaria
BBVA and Argentaria announced their merger on October 19, 1999 in an effort to continue adding value, creating the new bank (BBVA). It was of a substantial size, with strong solvency, a large financial structure, ample geographic diversification of business and risks, and as a result, greater potential for growing its profits.
Customers now had access to an extensive distribution network, a wider range of products, new channels and a strong international presence. Employees, meanwhile, had greater opportunities for professional development.
The integration of the two banks was exemplary because:
Strategic decisions were made quickly. The organizational structure was defined immediately and a framework agreement was established with workers.
Working groups were formed and plans for the different areas of activity were defined quickly.
Ambitious deadlines were met, sometimes ahead of schedule.
The effort benefitted from the excitement, participation and team spirit shown by everyone in BBVA.
The integration process received a major boost when a single BBVA brand was adopted in January 2000. This allowed the bank to create, in very little time, an image based on its own unique identity. BBVA's integration process took place quickly and efficiently and concluded in February 2001.
The integration of the group's retail businesses in Spain (BBV, Argentaria, Banca Catalana, Banco del Comercio and Banco de Alicante) allowed the bank to take advantage of the potential offered by an extensive network of branches with the BBVA image.
Prestigious financial publications recognized the efficiency of BBVA's integration, naming it the best bank in the world (Forbes) and in Spain (The Banker) and in the year 2000, the best bank in Latin America (Forbes) and the best bank in Europe (Lafferty) in 2001.
The international group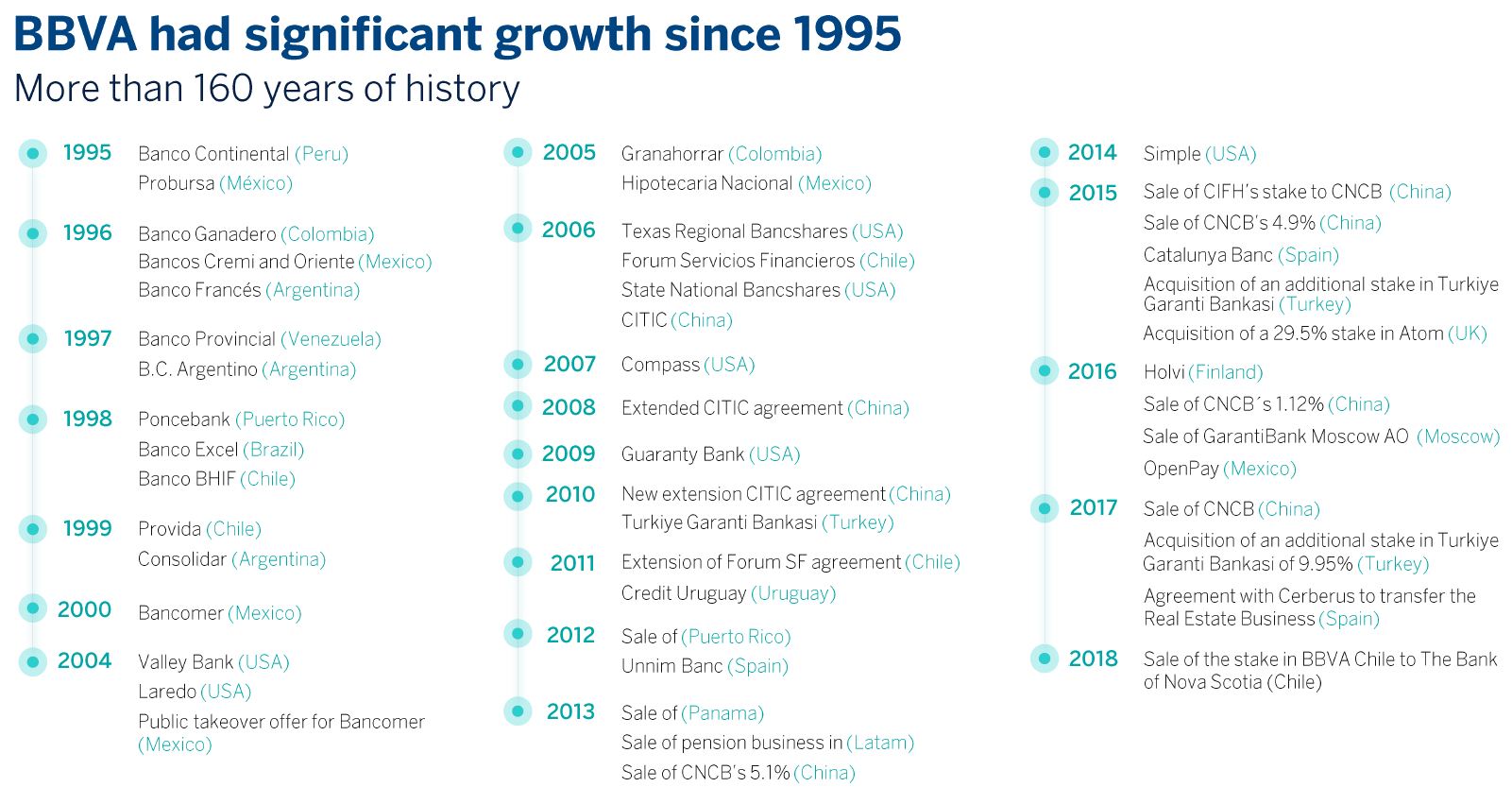 BBVA in the world
BBVA is a customer-centric global financial services group founded in 1857. The Group has a strong leadership position in the Spanish market, is the largest financial institution in Mexico, it has leading franchises in South America and the Sunbelt Region of the United States. It is also the leading shareholder in Turkey's Garanti BBVA. Its purpose is to bring the age of opportunities to everyone, based on our customers' real needs: provide the best solutions, helping them make the best financial decisions, through an easy and convenient experience. The institution rests in solid values: Customer comes first, we think big and we are one team. Its responsible banking model aspires to achieve a more inclusive and sustainable society.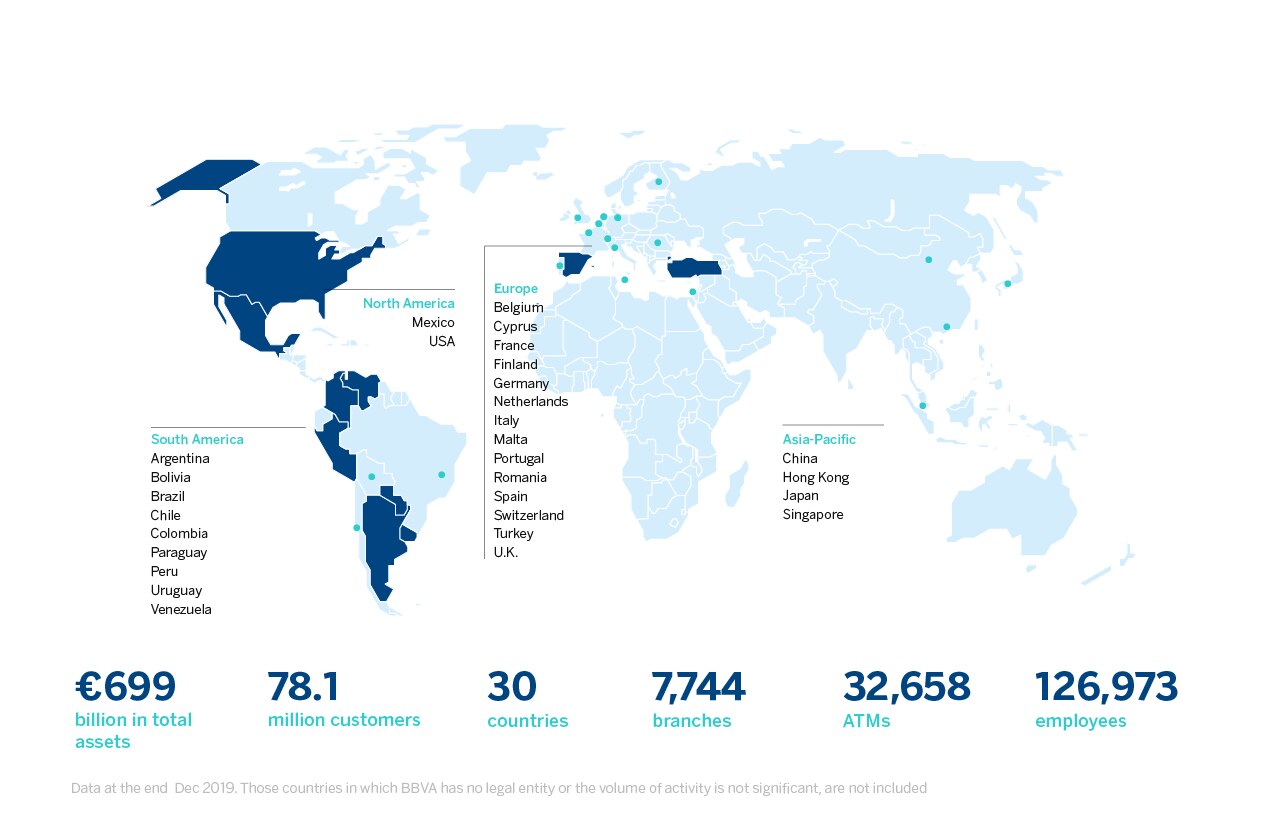 Data at the end Dec 2019. Those countries in which BBVA has no legal entity or the volume of activity is not significant, are not included
Basic data
Relevant data of the BBVA Group (consolidated figures) at 30-09-2019. This section contains all the updated quarterly figures on the balance sheet and income statement, and other relevant data.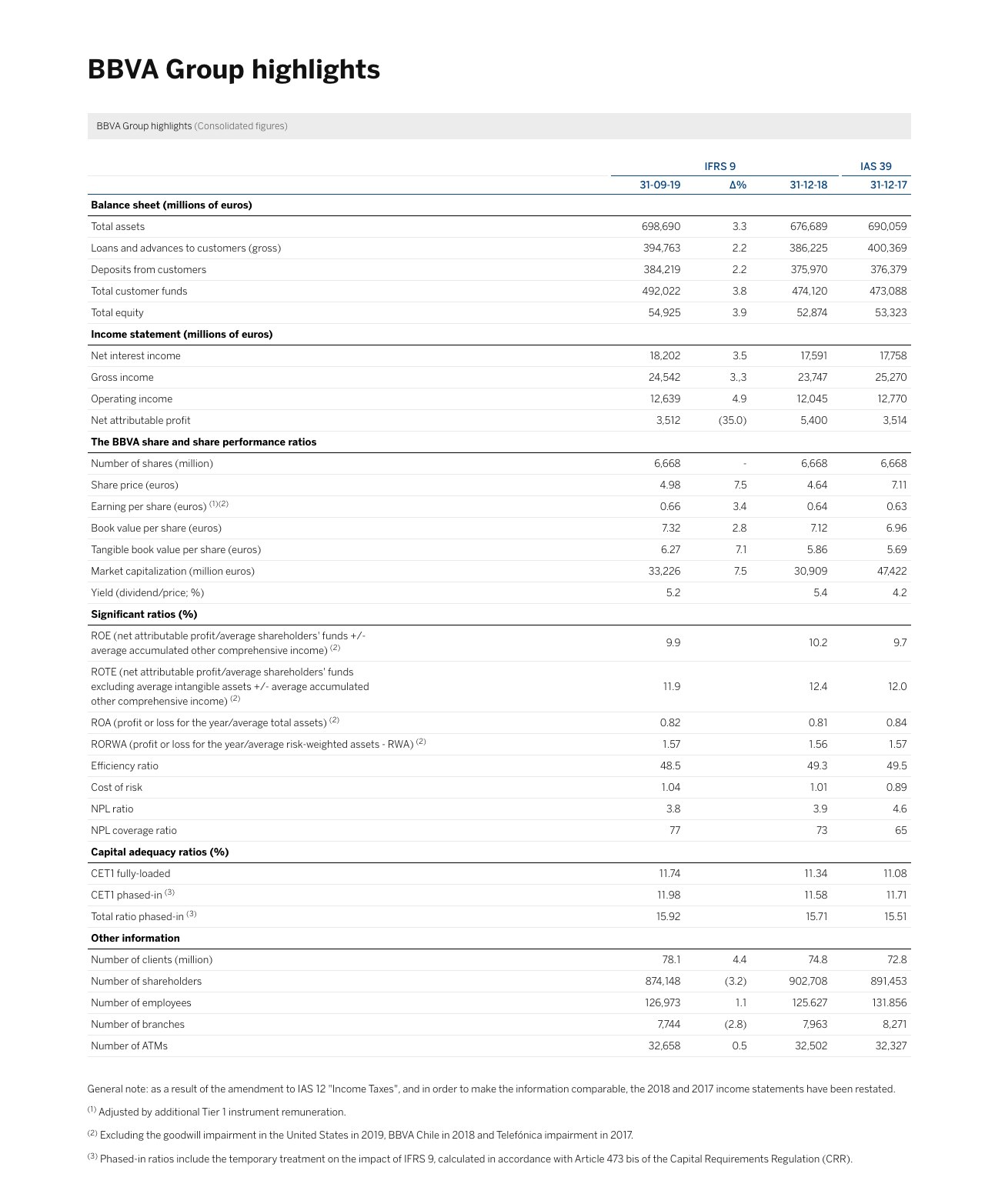 More financial information is available on the Shareholders and Investors website.
Organizational chart
1 Reporting channel to CEO for Argentina, Colombia, Peru, Venezuela, Uruguay and Paraguay, as well as monitoring of all countries, including Spain, Mexico, USA and Turkey
2 Reporting to the Board of Directors through its corresponding committees
Organizational Chart
Organizational structure
At the end of 2018, the Board of Directors of BBVA approved a new organizational structure, aimed at fostering the Group's transformation and businesses, while further specifying responsibilities for executive functions.
The main aspects of the new organizational structure are as follows:
The Group Executive Chairman is responsible for the management and well-functioning of the Board of Directors, the supervision of the management of the Group, the institutional representation, and leading and boosting the Group's strategy and its transformation process.
The areas reporting directly to the executive chairman are those related to the transformation's key levers: Engineering & Organization, Talent & Culture and Data; those related to the Group's strategy: Global Economics & Public Affairs, Strategy & M&A, Communications & Responsible Business and the new figure Senior Advisor to the Chairman; and the Legal-related and Board-related areas: Legal and General Secretary.
The Chief Executive Officer (CEO) is in charge of the daily management of the Group's businesses, reporting directly to BBVA's Board of Directors.
The areas reporting to the CEO are the Business Units in the different countries and Corporate & Investment Banking, as well as the following global functions: Client Solutions, Finance&Accounting, that integrates the functions of accounting and tax, and Global Risk Management.
Additionally, certain control areas strengthen their independence, establishing a direct reporting of their heads to the Board of Directors through the corresponding committees. These control areas are Internal Audit and the new Regulation & Internal Control, area that is in charge of the relationship with regulators and supervisors, the monitoring and analysis of regulatory trends and the development of the Group's regulatory agenda, and the management of compliance-related risks.
Strategy and business model
Vision and aspiration
BBVA is undertaking a transformation process that is necessary for adapting to the new environment in the financial industry, characterized by trends that confirm the Group's strategic vision, that is, a reconfiguration of the entire financial services industry is taking place. These trends are the following:
A complex macroeconomic environment, characterized by strong regulatory pressure, low interest rates, high currency volatility, and geopolitical risks.
A highly regulated banking industry, that is, traditional banking subject to a large number of legal regulations, both globally and locally.
A shift in the needs and expectations of customers who demand higher value-added services that enable them to achieve their objectives, with a simple, transparent and immediate relationship model similar to the one they already enjoy with a number of other highly digitized industries.
Data is becoming an strategic asset. Given the large amount of data stored within organizations, the ability to interpret and make value proposals to customers is considered to be critical, provided there is customer consent under all circumstances.
Certain technological giants, with business models based on data that create ecosystems where the lines between different types of businesses are getting blurred.
Greater competition as a result of the arrival of new players who focus on the most profitable aspects of the value chain.
In this context, the main objective of the Group's transformation strategy, its aspiration, is to strengthen the relationship with its customers.
New value proposition
With the aim of promoting the new value proposition of the Group within the framework of the transformation strategy, we want to offer customers:
advice based on data through the development of solutions that provide them with added value, helping them to achieve their objectives, the best decision-making and providing peace of mind while strengthening the relationship of trust with BBVA;
and products and services for customers and non-customers, 100% digital, simple and fast, through fully automated processes, and from our own and third-party channels.
For this we are supporting ourselves in:
advance firmly in the transformation towards a truly data-driven company in which all decisions are made based on data and in which the creation of our product and service offerings is fed with data-based intelligence;
in a software development platform that enables a global ecosystem of developers who work collaboratively to build products that customers request, increasingly rapidly and incorporating the latest technologies;
and an agile organization, in which the teams are directly responsible for what they do, build everything from the customer's feedback and are focused on delivering the solutions that best meet the current and future needs of the clients.
Our purpose and strategic priorities
1. A new standard in customer experience
BBVA Group's main focus is based on providing a new standard in customer experience that stands out for its simplicity, transparency and swiftness, further empowering its customers while offering them personalized advice. BBVA's business model is customer-oriented, with the goal of being a leader in customer satisfaction across its global footprint.
In order to learn more about the degree of customer recommendation, and, in turn, their degree of satisfaction, the Group uses the Net Promoter Score (NPS) methodology, which recognizes BBVA as one of the most recommendable banking entities in every country where it operates.
Likewise, progress in customer satisfaction is reflected in the positive performance of strategic indicators such as the target customers (segment of customers which the Group wishes to grow and retain), as well as its corresponding client attrition rate. The digital customers base are more satisfied and this translate into digital clients attrition rate reduction (-47% vs non digital clients). In short, BBVA is making progress in its strategy, and succeeding in attracting a greater number of customers, who are also more satisfied and more loyal.
2. Digital sales
BBVA's relationship model is evolving to adapt to the growing multi-channel customer profile, which is why it is essential to foster digitalization. For this purpose, it is developing an important digital offering including products and services that let customers use the most convenient channel for them.
3. New business models
The Group is actively participating in the disruption of the financial industry in order to incorporate key findings into the Bank's value proposition, both through the search for new digital business models as well as the leveraging of the FinTech ecosystem.
4. Optimize capital allocation
The objective of this priority is to improve the profitability and sustainability of the business while simplifying and focusing it on the most relevant activities.
5. Unrivaled efficiency
In an environment of lower profitability for the financial industry, efficiency has become an essential priority in BBVA's transformation plan. This priority is based on building a new organizational model that is as agile, simple and automated as possible.
6. A first class workforce
BBVA Group's most important asset is its people; therefore, a first class workforce is one of the six Strategic Priorities, which entails attracting, selecting, training, developing and retaining top-class talent.
BBVA Group has developed new people management models and new ways of working which have enabled the Bank to keep transforming its operational model, but have also promoted cultural transformation and have favored the ability to become a purpose-driven company, or, in other words, a company where staff guide their actions according to the Values, and are genuinely inspired and motivated by the same Purpose.
As of December 31, 2018, the BBVA Group had 125,627 employees located in more than 30 countries, 54% of whom were women and 46% men. The average age of the staff was 37.6 years. The average length of service in the Organization was 10.3 years, with a turnover of 7.6% in the year.

Our Values
BBVA is engaged in an open process to identify the Group's Values, which took on board the opinion of employees from across the global footprint and units of the Group. These Values define our identity and are the pillars for making our Purpose a reality:
Customer comes first
BBVA has always been customer-focused, but the customer now comes first before everything else. The Bank aspires to take a holistic customer vision, not just financial. This means working in a way which is empathetic, agile and with integrity, among other things.
We are empathetic: we take the customer's viewpoint into account from the outset, putting ourselves in their shoes to better understand their needs.
We have integrity: everything we do is legal, publishable and morally acceptable to society. We always put customer interests' first.
We meet their needs: We are swift, agile and responsive in resolving the problems and needs of our customers, overcoming any difficulties we encounter.
We think big
It is not about innovating for its own sake but instead to have a significant impact on the lives of people, enhancing their opportunities. BBVA Group is ambitious, constantly seeking to improve, not settling for doing things reasonably well, but instead seeking excellence as standard.
We are ambitious: we set ourselves ambitious and aspirational challenges to have a real impact on people's lives.
We break the mold: we question everything we do to discover new ways of doing things, innovating and testing new ideas which enables us to learn.
We amaze our customers: we seek excellence in everything we do in order to amaze our customers, creating unique experiences and solutions which exceed their expectations.
We are one team
People are what matters most to the Group. All employees are owners and share responsibility in this endeavor. We tear down silos and trust in others as we do ourselves. We are BBVA.
I am committed: I am committed to my role and my objectives and I feel empowered and fully responsible for delivering them, working with passion and enthusiasm.
I trust others: I trust others from the outset and work generously, collaborating and breaking down silos between areas and hierarchical barriers.
I am BBVA: I feel ownership of BBVA. The Bank's objectives are my own and I do everything in my power to achieve them and make our Purpose a reality.
Responsible banking model
At BBVA we have a differential banking model that we refer to as responsible banking, based on seeking out a return adjusted to principles, strict legal compliance, best practices and the creation of long-term value for all stakeholders.
It is reflected in the Bank's Corporate Social Responsibility or Responsible Banking Policy. The Policy's mission is to manage the responsibility for the Bank's impact on people and society, which is key to the delivery of BBVA's Purpose.
All the Group's business and support areas integrate this policy into their operational models. The Responsible Business Unit coordinates the implementation and basically operates as a second line for defining standards and offering support.
The responsible banking model is supervised by the Board of Directors and its committees, as well as by the Bank's senior management.
The four pillars of BBVA's responsible banking model are as follows:
Balanced relations with its customers, based on transparency, clarity and responsibility.
Sustainable finance to combat climate change, respect human rights and achieve the UN Sustainable Development Goals (SDGs).
Responsible practices with employees, suppliers and other stakeholders.
Community investment to promote social change and create opportunities for all.
Sustainable finance
Banks play a crucial role in the fight against climate change and in achieving the United Nations Sustainable Development Goals thanks to their unique position in mobilizing capital through investments, loans, issuance and advisory functions. They have effective measures in place to help tackle these challenges: firstly, providing innovative solutions to help customers transition to a low-carbon economy and driving sustainable finance;  and, secondly, systematically incorporating social and environmental risk into their decision-making processes.
BBVA's commitment to sustainable development is reflected in its global-reach Environmental Commitment. In 2018, BBVA announced its strategy on climate change and sustainable development to help the Bank meet the United Nations Sustainable Development Goals and achieve the objectives of the Paris Agreement on climate change. 2025 Pledge will help the Bank progressively align its activity with the Paris Agreement on climate change and achieve a balance between sustainable energy and investments in fossil fuels. The strategy is based on a threefold commitment:
To finance: BBVA is pledging to mobilize € 100 billion in green finance, sustainable infrastructure and agribusiness, entrepreneurship and financial inclusion.
To manage the environmental and social risk associated with the Bank's activity, to minimize potentially negative direct and indirect impacts.
To engage all stakeholders to increase the financial sector's collective contribution to sustainable development.
BBVA's environmental Commitment and strategy on climate change and sustainable development are both approved by the Chief Executive Officer and backed by senior management.
Community investment
BBVA strives to be an engine of opportunities for people and to generate a positive impact in their lives. Through various social programs, we deliver on BBVA's purpose. Put all the opportunities of this new era within reach of everyone. In particular, for those in more difficult situations, including more vulnerable individuals.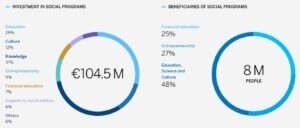 BBVA channeled its investment through its local banks and corporate foundations. We contributed to the development of society in the countries in which we are present. The Foundations play a fundamental role in channeling a vital part of the group's social investment initiatives.
The BBVA Foundation focuses on the promotion of knowledge, culture, the dissemination of science and art, and the recognition of talent and innovation. Its activity is grouped into five strategic areas: Environment, Biomedicine and Health, Economy and Society, Basic Sciences and Technology, and Culture. In each one of these, it designs, develops and finances research projects, either individually or in teams; facilitates advanced and specialized training through scholarships, courses, seminars and workshops; awards prizes to researchers and professionals who have contributed significantly to the advancement of knowledge; and communicates and disseminates this knowledge through publications and conferences.
The BBVA Microfinance Foundation is a non-profit organization formed in 2007 by BBVA within the framework of its corporate social responsibility to support vulnerable people and provide them with access to productive activities, with a budget of 300 million dollars and its experience of more than 150 years. Its objective is to create opportunities for people in vulnerable situations, expanding and facilitating access to financial services. For this, it uses a proprietary methodology called "Productive Finance", which seeks the development of the customer and offers personalized attention to the entrepreneurs to whom it provides. That is, it provides not only financial products and services, but also advice and training for the administration and financial management of their small businesses.
Financial education
Financial education is one of our strategic priorities established in the Community Investment Plan. The global objective of BBVA's commitment to financial education is to promote a concept of financial education in the broad sense, through the Global Financial Education Plan, based on three lines of action:
Financial education for society: Encourage the acquisition of knowledge, skills and attitudes in all countries where BBVA operates, through its own programs and in collaboration with third parties, in order to achieve greater knowledge of financial concepts and a change in behavior in financial decision-making.
Financial education in customer solutions: Integrate financial capabilities in the customer's experience in order to facilitate informed decision-making, which will result in an improvement in their financial well-being and allow them to access greater opportunities.
Promotion of financial education: Promote the importance of knowledge and financial capabilities, as a fundamental issue that has a direct impact on the wellbeing of people.
Our commitment to financial education is long-term, with more than € 80 million invested and more than 13.4 million people benefited in different programs since 2008.
Entrepreneurship
In the 2016-2018 Community Investment Plan the entrepreneurship support programs are organized into a strategic line that became particularly important. It has been a boost for the development of programs and initiatives aimed at the most vulnerable entrepreneurs in our society, and those that generate a positive social impact through their companies.
Knowledge, education and culture
Knowledge, education and culture are three areas of activity that are grouped together in a new strategic line of the Community Investment Plan for 2016-2018.This encompasses the activities carried out by the BBVA Foundation and the local initiatives of education and support for culture. In 2018, 75.5 million was invested that benefitted 3.8 million people.
Code of Conduct
The Code of Conduct was approved by BBVA's Board of Directors on May 28, 2015.
BBVA's tax strategy
BBVA's corporate principles for tax issues and fiscal strategy, approved by the Board of Directors on July 1, 2015
U.S. Patriot Act
The USA Patriot Act is a U.S. law approved in 2001 following the September 11th terrorist attacks. Its main purpose is to increase government control to fight terrorism and improve different U.S. security agencies' capacities through coordination and granting the agencies greater monitoring power.
One of the ways in which the USA Patriot Act combats terrorism is by the monitoring banks in order to prevent money laundering, a source of funding for terrorist groups.
In accordance to the requirements of the USA Patriot Act, all banks located outside the U.S. that wish to engage in or maintain international relations with a U.S. bank or broker/dealer are required to provide certain information about the nature of their business and their supervision.
That's how the USA Patriot Act applies to BBVA.
Global USA PATRIOT ACT Certificate – PDF Document / (2745 KB)
Global USA PATRIOT ACT Certificate for use by any financial institution that provides, or could provide services to any institution in the BBVA Group or the entire BBVA Group.
FATCA
The Foreign Account Tax Compliance Act (FATCA) is a law introduced by the U.S. Department of Treasury and Internal Revenue Service (IRS) to encourage enhanced tax compliance and transparency with respect to U.S. citizens or residents. FATCA requires financial institutions around the world to identify U.S. persons that have foreign bank accounts, among others, and report them to the U.S. tax authorities. To ensure compliance, a 30% withholding tax will be imposed on certain payments to non-compliant institutions and individuals.
BBVA, along with its subsidiaries and branches, is committed to help ensure international tax compliance while maintaining high standards of customer data security. BBVA is therefore proactively implementing changes in its current business practices to ensure compliance with FATCA.
BBVA institutions affected by FATCA have already been registered with the IRS and will appeal in the next official IRS list of participating financial institutions.
FATCA requires financial institutions across the globe to fulfill certain requirements:
Identify the following customers with a BBVA account:

U.S. citizens or residents
U.S. corporations
Certain legal institutions, mainly private equity entities owned by U.S. citizens

Report information on account holders listed above to the IRS or local tax authorities. This information includes:

Personal information: name, address and U.S. Tax Identification Number (US TIN)
Account information: account number, account balance and payments made or received in the account

Withhold 30% from account holders on certain payments from the U.S. (mainly interest and dividends) that fail to comply with FATCA .
However, It is not expected that FATCA will affect most of BBVA's customers. FATCA entered into force on July 1, 2014. Reporting began in 2015.
Please note that BBVA does not provide tax advice. If required, we recommend our customers seek independent advice on FATCA from a professional tax advisor. BBVA and its subsidiaries are not liable for any errors, omissions or opinions contained within this document.
BBVA Due Diligence
Know more about our regulatory framework, financials reports, Corporate Governance and Corporate Integrity Models