Ciudad BBVA: A design by Herzog & de Meuron for digital transformation
Simplicity and human scale, technology and sustainability are the defining traits of BBVA new corporate headquarters, designed by Swiss architecture firm Herzog & de Meuron. The authors of the Beijing Bird's Nest or the redesign of the Tate Modern in London, drew their inspiration from the towns of the past, cities - paraphrasing Pritzker prize winner Jacques Herzog - "that work and are built for people", to project a modern campus where architecture and technology are put at the service of people.
The whole 114,000 square meter complex gravitates around the large plaza presided over by La Vela, the round-shaped 19-story high-rise which has already become a new landmark in Madrid's skyline.
Seven low-rises are built around the plaza, connected by an overhead walkway that runs along its perimeter. Cobbled streets – covered with awnings and overhanging plants during summer – are dotted with gardens, patios and canals, just like any town in Southern Europe.
An open office space to drive innovation
There are no closed offices within Ciudad BBVA. The 6,000 employees work in open working areas with abundant formal and informal meeting spaces. The ultimate purpose that this layout seeks is to drive digital innovation within the bank through the exchange of knowledge and innovation, enabling fast-paced decision making processes.
Also, thanks to the complex's ubiquitous wifi signal, the restaurants and cafeterias double as informal gathering areas and meeting points. Google's collaborative environment and the mobile apps developed by BBVA tear down physical boundaries of the classical workplace, which now becomes a range of possibilities from which to choose the one that fits best at every point in time.
One of the most spectacular spaces in Ciudad BBVA is the treasury room: 1,600 square meters where 400 traders conduct over 8,000 transactions every day. This open double-height space is surrounded by a transparent façade and boasts four huge video walls that can be seen from any point in the room, which display stock exchange and breaking news broadcasts.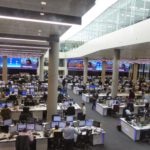 Ciudad BBVA also hosts a comprehensive offering of services, including nursery, sports and physiotherapy center, semi-Olympic swimming pool, cafeterias, restaurants and a shopping area.
Sustainability and energy savings
Ciudad BBVA has been built following the sustainability criteria necessary to earn the LEED Gold certification, one of the most demanding international standards for sustainable construction.
The facades have been designed to minimize energy consumption: Over 49,000 square meters of glass façades with high-reflectivity panels, protected from direct sunlight by 2,800 fiber-glass slats, or brise-soleils, allow all employees to enjoy natural lighting.
The high-specifications of the complex's enclosure have enabled the installation of a cold beam climate control system, which can rarely be used in countries as warm as Spain. This system enables reducing energy consumption by 5 to 11% and allows employees to enjoy greater levels of comfort, as the beams carry chilled water to cool down spaces without the need to use fans.
Building roofs are also designed to save energy and water: Lining the top of the buildings, a vast carpet of local plants that hardly requires any watering at all helps mitigate the "heat island" effect. These green roofs are also equipped with a rainwater collection system to irrigate the over 31,000 square meters of green areas distributed throughout the complex (100,000 bushes and shrubs, more than 400 overhanging plants and 450 trees).
Bathroom sink water is also reused. Combined, both measures enable a reduction of 50% in drinking water consumption.
Internal renewable energies
Ciudad BBVA is the largest complex Europe to be lighted with LED technology, implying an energy savings of 30% compared to traditional fluorescent technology. The city is also equipped with a consumption management system based on real-time uninterrupted monitoring of presence, temperature and natural lighting conditions at each location.
Also, a large percentage of the energy needs of the complex are met using internal renewable energy sources such as solar thermal collectors, photovoltaic panels, and closed-loop geothermal energy, which takes advantage of the stable underground temperature.