Onur Genç: "Looking ahead, Türkiye and Spain can work together even more closely to benefit from growth opportunities"
BBVA CEO Onur Genç delivered the closing address at a business event held on Monday by the Spanish Confederation of Business Organizations (CEOE) and the Turkish Embassy in Spain to commemorate the centenary of the Republic of Türkiye. During his speech, Genç underscored the growth potential of Spain and Türkiye, two key partners that stand to benefit from their bilateral cooperation.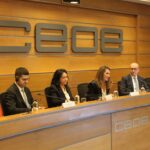 The event was attended by Marta Blanco, President of CEOE International, Nüket Küçükel Ezberci, Ambassador of the Republic of Türkiye in Spain, and Burak Dağlıoğlu, President of the Republic of Türkiye Presidency Investment Office.
Onur Genç was upbeat in his closing address by remarking on the opportunities that were now emerging for Spain and Türkiye, despite the prevailing macroeconomic environment. BBVA's CEO described the current economic situation as uncertain. In his view, the greatest uncertainty now facing the global economy is the question of how inflation will pan out and how central banks will react. "Despite the lingering uncertainty, it is at times like these that opportunities emerge and I look to the future with optimism," he exclaimed.
However, there are factors which, in his opinion, can create long-term growth opportunities for both Türkiye and Spain. First of all, deglobalization is pushing up demand for investment in emerging economies next to big markets. That's the case for Spain and Türkiye regarding Europe. Secondly, decarbonization needs to be financed and this creates an opportunity. Both countries also have growth potential in the area of renewable energy.
BBVA's CEO also noted that the Group has been increasing its stake in the Turkish bank Garanti from the 25% it acquired in 2011 to the current 86%, clearly illustrating the confidence it has in the country's growth potential. "Türkiye and Spain are two key partners that moving forward can work together even more closely to unlock growth opportunities," he stated.