20 social entrepreneurs in Texas selected to join BBVA Momentum's inaugural class in U.S.
Twenty social entrepreneurs from Texas who have channeled their passions into solving an array of society's issues were selected to join the inaugural U.S. class of BBVA Momentum, an intensive seven-month training program for those who want to change the world through their work.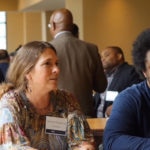 BBVA Momentum has been operating since 2011 in several countries throughout the global footprint for BBVA, the Madrid-based bank, but this marks its first foray into the U.S. BBVA Compass, BBVA's U.S. franchise, put out the call in March for social entrepreneurs in Texas to apply to the program, and judges from BBVA Compass and Texas Executive Education at The University of Texas at Austin's McCombs School of Business conducted interviews with the candidates last month to determine which ones would be invited to join the program.
"We saw a lot of passion and innovative approaches to some of our most stubborn issues — issues that are undermining vulnerable populations, the environment or financial well-being, among other things," said BBVA Compass Director of Corporate Responsibility & Reputation Reymundo Ocañas, who served as one of the judges. "We scrutinized the organizations to determine which ones had the most sustainable business models and the highest social impact. The goal of BBVA Momentum is to help them scale up so they can change even more lives."
What's in store for the participants
The social entrepreneurs will be given seven months of online and in-person education. The in-person professional development will be conducted by Texas Executive Education at UT-Austin's McCombs School of Business, while the online portion will be provided by the Corporate Learning Alliance, a joint initiative between the Financial Times and Spain's IE Business School. Several networking opportunities are also built into the program, giving entrepreneurs the chance to learn from previous BBVA Momentum participants and investors. And finally, BBVA Compass will select those businesses considered most sustainable and with the highest social impact for further investment opportunities.
Getting the support of a large organization like BBVA, and the networking effect that can occur through a program like Momentum, is very empowering for these small businesses
Jim Nolen, a distinguished senior lecturer in the McCombs School's Department of Finance who served as one of the judges, said BBVA Momentum is filling a critical need.
"The failure rate of businesses in the United States is fairly high and when you add the social component, that makes it even tougher for some of these businesses to achieve their goals," he said. "So getting the support of a large organization like BBVA, and the networking effect that can occur through a program like Momentum, is very empowering for these small businesses."
BBVA Momentum already has driven the expansion of 114 companies with high social impact in Spain, Mexico and Peru. The companies selected to participate have focused on a variety of social problems, whether it's the treatment of cognitive impairment in the elderly or helping the neediest citizens build their own homes out of sustainable materials. Jointly, they employ 3,200 people and their activities have benefited more than a million people.
Meet the participants
Here are the companies and organizations that were selected for BBVA Momentum, the names of the executives who will be participating on their behalf, and a synopsis of their business focus:
A Caring Safe Place Inc., Stanley Phill (Houston): A Caring Safe Place Inc. develops, constructs, and operates transitional and permanent housing programs and provides supportive social services to vulnerable populations of homeless persons living with HIV and substance abuse histories.
Café Momentum, Chad Houser (Dallas): Café Momentum is a restaurant training platform that provides post-release paid internships for juvenile offenders through which they receive intensive culinary, job and life skills training as well as continued mentoring and support to foster successful reentry into the community.
Capital Plus Financial, Eric Donnelly (Bedford): Capital Plus Financial is a certified community development financial institution (CDFI) dedicated to providing the families it supports the opportunity for homeownership through residential mortgage loans and other educational services.
Chicks with Class, Margo Baines (Houston): Chicks With Class offers etiquette programs and empowerment workshops, giving girls and boys the tools they need to help shape the world into a better place.
Community Loan Center of Texas, Matt Hull (Austin): The Community Loan Center is an employer-based small dollar loan program serving as an alternative to payday and auto-title loans for low-income borrowers.
E4 Youth, Carl Settles (Austin): Through partnerships with area schools and educators, E4 Youth helps bridge the gap between underserved youth and creative commercial arts careers. It identifies, nurtures and promotes talent through training, mentoring and internships.
Education Opens Doors, Emily Cook (Dallas): Education Opens Doors empowers students to purposefully navigate through high school to college through the Roadmap to Success Program. Its college and career-readiness program focuses on middle and high school students, and is delivered by teachers during in-school hours.
Ensosoft, Noor Alnahhas (Houston): Ensosoft delivers advanced engineering software solutions for the upstream and midstream oil & gas industry through its two main products: real-time pipeline integrity & asset management and real-time artificial lift monitoring, control, optimization and failure prediction and prevention.
Give More HUGS, Christopher McGilvery (San Antonio): Give More HUGS is a national nonprofit organization that unites businesses, community organizations, global leaders and educators to mentor and train youth and young adults to carry out the mission to help underprivileged students develop a lifelong love for learning, reading and creativity.
Go Rings, Darcie Nicholson (Austin): Go Rings is a handmade jewelry company that functions as a fundraising tool for individuals and organizations raising money to go do humanitarian/volunteer work.
GroupRaise.com, Devin Baptiste (Houston): GroupRaise.com was created to help restaurants build relationships with local customers through meal fundraisers that support causes their communities care about.
IDEA Public Schools, Rebekah Anthony (Austin): IDEA's mission is college for all children. The public charter school network operates tuition-free, PK-12 public schools, in which 88 percent of students are low-income.
JUST, Steve Wanta (Austin): JUST invests in low-income entrepreneurs in Texas with capital, coaching and community to help clients save and earn more money.
LOHAS Capital, Rick Davis (Austin): LOHAS Capital is developing a comprehensive marketing automation platform to support the crowdfunding marketing campaigns of health and sustainability and other social impact ventures seeking to bridge their funding gaps and engage their communities more effectively.
LynxGRC, David Elcock (Austin): Lynx Technology Partners is an information security and risk management consulting firm that supports the International Consortium of Minority Cybersecurity Professionals (ICMCP), a national organization focused on achieving the consistent representation of women and minorities in the cybersecurity industry through programs designed to foster recruitment, inclusion and retention.
Magpies & Peacocks, Sarah-Jayne Smith (Houston): Magpies & Peacocks is dedicated to the collection and sustainable reuse of fashion, textiles and accessories. It works with local students, educators, designers and artists to create up-cycled collections from donated items, provides a resource library of post-consumer textiles for reuse and offers sustainability education.
Society of St. Vincent de Paul, Michael Pazzaglini (Dallas): The Society of St. Vincent de Paul is a community-based volunteer organization that offers direct aid to people in need across nine counties in North Texas. It provides short-term financial, material and emotional support.
Student Loan Genius, Justin Fischer (Austin): Student Loan Genius helps institutions, companies and employees pursue real financial wellness by tackling one of today's biggest life hurdles: student loan debt.
The Giving Field, Sharon Begnaud (Beaumont): The Giving Field is a one-acre garden program at St. Anne Catholic Church of Beaumont, Texas, with the mission of feeding the hungry. The garden provides fresh, organically grown fruits and vegetables to area soup kitchens. Volunteers help weed, plant, harvest, and develop the crops.
Upswing, Alex Pritchett (Austin): The Upswing virtual learning system leverages a platform for advising, tutoring and early alerts in addition to data analytics to help colleges retain more students. This is done with a data-first mentality to engage students and provide actionable student success alerts to college administration.