Asia has become the world's fastest growing economic region of the 21st century and currently plays a critical role in the global supply chain. According to figures provided by BBVA Research, between 2011 and 2021 the region generated 60 percent of global economic growth and one in every two million dollars of investment. And this contribution is expected to increase to 65 percent between 2017 and 2027. This growing trend is driving the global presence of Asian multinational companies as well as the expansion of global multinationals into Asia, where 43 percent of the 5,000 largest companies of this type are currently present. The region represents an important export center and a very attractive domestic market.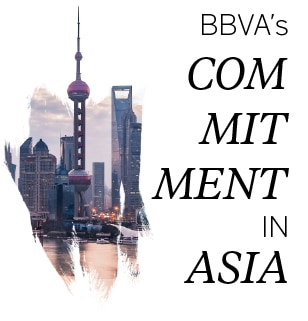 BBVA arrived in Asia more than 40 years ago and since then it has established a comprehensive network of branches and representative offices for the BBVA Group's corporate and institutional clients. BBVA currently has five branches located in Hong Kong, Shanghai, Singapore, Taipei and Tokyo; and representative offices in Seoul, Beijing, Jakarta, and Mumbai. Each of these locations plays a fundamental role in the region's economy and offers a unique market appeal for companies.
BBVA branches in Asia focus on serving the wholesale banking and institutional investor segment, while its representative offices are limited to performing liaison functions between the parent company and the destination country where they are located, and they do not offer banking services.
For instance, the Shanghai branch opened in 2016 with a foreign currency banking license, and in 2020 it obtained the license to operate in the local currency, the renminbi. This license allows BBVA to offer banking services and products in the local currency, which is predominant in domestic transactions and is of growing international importance. BBVA's first transaction in local currency was a short-term working capital loan for Toyota Motor Finance. With the renminbi license, the bank can expand its business and have access to a broader customer base in China, a key market for most multinational companies.
BBVA's team in Asia is made up of approximately 150 professionals. As in the rest of BBVA Group, these experts have a very clear client focus which, in this particular region, translates into three strategic priorities:
Assist Asian multinational clients
with needs in those geographies where BBVA is present.

Satisfy the demand for Asian products
of BBVA's global clients operating in Asia.
Distribute investment and hedging solutions
for institutional clients (insurance companies, funds, public banks or commercial and private banks) and the public sector (central banks and sovereign wealth funds) in the region.
Through its five branches in the region, BBVA serves the wholesale banking and institutional investor segment through financial products and services that are tailored to their needs.

TRANSACTIONAL BANKING SOLUTIONS
BBVA's transactional banking teams help companies and institutions manage risks related to short-term liquidity. It also offers international trade finance, custody and working capital services.

| | |
| --- | --- |
| | International Trade. Financing solutions for international trade operations, which can be structured or plain vanilla, in the short- and long term. Bilateral loans; confirmations and discounts for credit export letters; payment collection solutions; sustainable products and a variety of guarantees and bond issues. |
| | |
| --- | --- |
| | Management of working capital. Solutions for financing the working capital of companies, also in the sustainable format, and which meet the needs of client subsidiaries in the countries where BBVA is present under a single corporate guarantee. |
| | |
| --- | --- |
| | Deposits and cash management capabilities. |
INVESTMENT BANKING AND FINANCING SOLUTIONS
BBVA Asia offers a wide range of advisory services to its clients both in mergers and acquisitions and in the management of their medium and long-term debt:

| | |
| --- | --- |
| | Mergers and acquisitions. BBVA wants to be the reference advisor in the buy and sell mandates in the geographies in which it is present, mainly in Spain, Mexico, South America and Turkey. |
| | |
| --- | --- |
| | Corporate financing. Structuring and execution of bilateral loans; participation in syndicated financing: underwriting, structuring and execution of syndicated financing. In addition, BBVA actively promotes green, social and sustainable financing, as well as financing linked to digitization indicators. |
| | |
| --- | --- |
| | Project finance, especially active in the energy and infrastructure sectors. |
| | |
| --- | --- |
| | Structured financing focused on transactions insured by export credit agencies. |
CAPITAL MARKETS PRODUCTS AND SERVICES
BBVA has three trading floors in Asia. The main one is located in Hong Kong and the other two, with capacity to service needs in local currency, in Shanghai and Taipei. From these locations, the bank's global markets team provides a service based on extensive knowledge of the different realities of the region and tailored to the specific needs of each client. In Asia in particular, BBVA is working in two very clear directions:

1. Giving Asian investors access to the capital markets across BBVA's footprint through a wide range of fixed income products, such as sovereign or corporate bonds, and equities, both in 'plain vanilla' and structured formats.
2. Offer hedging tools for both currencies and interest rates to Asian multinational companies with operations or interests in the geographies where BBVA is present, and to global clients with a presence in Asia.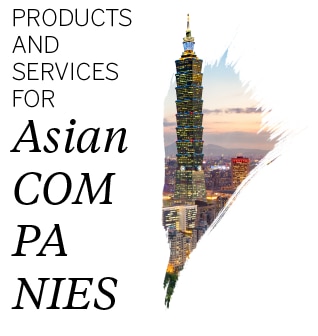 BBVA's Asian client base includes some of the major companies in the region. Over the years BBVA has built a solid relationship with them offering them long and short-term financial support; foreign trade tools; and innovative value-added services, both in the countries of origin of the clients, and especially in BBVA's footprint.
The fact of having a global relationship manager in Asia, who is in continuous coordination with BBVA's local teams in the region, guarantees the clients a smooth deployment of the financial services they need. Not only are clients attended in their local language and in their time zone, but there are also important advantages at the operational level. For instance, the clients especially appreciate the possibility of having a consolidated credit limit for the whole group assigned by the global relationship manager to each of the subsidiaries and geographies, if so needed.
The innovation that BBVA incorporates in its service offering is another aspect that Asian wholesale clients recognize as differential. The bank has pioneered two major trends that are already consolidated in the market today: sustainability and digitization.
Today, sustainability is on the strategic agenda of all CEOs: improving the world, achieving social and environmental development with a positive impact, and ensuring that the profitability of companies today is sustainable tomorrow. Banks undoubtedly have to meet the needs of their clients if they want to remain relevant to them, accompanying them in the transition to a sustainable future. That is why in 2018 BBVA announced its Pledge 2025, in which it set the goal of mobilizing €100 billion by 2025 to fight against climate change. At the end of December 2020, the bank had already reached €50 billion.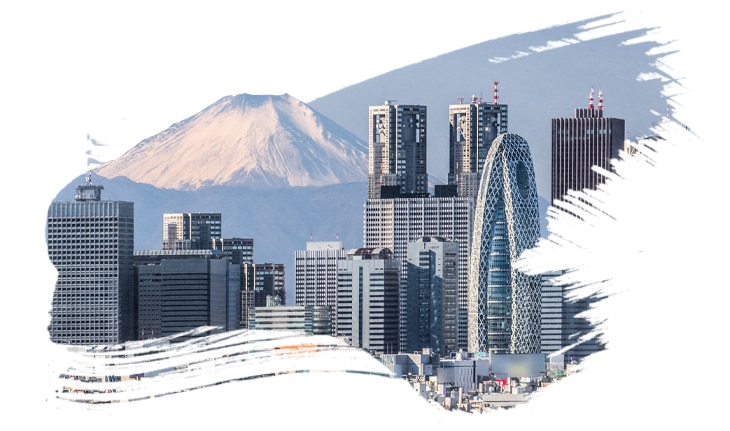 BBVA has been a pioneer and innovator particularly in sustainable loans, being one of the most active institutions today both globally and in Spain. This commitment to sustainability has also reached the Asian market where in 2019 the bank participated as coordinator in its first sustainable loan to a Chinese corporate client, COFCO International, the largest agribusiness company in China. BBVA is also certifying its clients' operations as green, social or sustainable in the region, in accordance with its sustainable transactional banking framework. In September 2020, BBVA and Korean energy company SK Innovation signed a €100 million working capital loan to expand battery manufacturing facilities for electric vehicles in Europe.
Digitization is another innovative aspect that clients find in BBVA's offer. In 2019, the bank revolutionized the corporate loans market with the creation of the digital loan ('D-Loan'). It is a product created by BBVA that aims to encourage companies to accelerate their digital transformation, a topic of significant importance for most CEOs today. BBVA formalized the world's first financing of this kind with Olam International, one of the leading food and agribusiness companies based in Singapore.

ACCOMPANYING ASIAN CLIENTS IN THE REST OF THE WORLD
BBVA has leading franchises in Spain, Mexico, South America, and Turkey, a competitive advantage that positions the bank as the best partner for most multinational Asian clients as they enter and grow in these markets.
One of BBVA's priorities is to accompany Asian corporates in their business activity across the bank's geographical footprint. This is so in the beginning of the client's journey, as well as when they already are more established in the region. BBVA supports them in a variety of financing solutions, ranging from advisory on an acquisition, to a public offering or organically, the management and participation in a financing and issuance of necessary guarantees.
It is essential to respond to the day-to-day operational and transactional needs of companies, corporations and institutions, as well as to support them in their treasury management, where liquidity management is a key factor. This is accomplished through instruments and services adapted for the management of collections, payments, foreign trade and asset management.
BBVA offers optimal coverage of these needs, thanks to its franchises around the world and its global business approach, especially for Asian companies with interests in Latin America. The bank's mission is to accompany its wholesale clients in their international expansion by putting the geographies in which the bank is present to work at the service of its clients. A good example of this was the formalization of a green guarantee facility in favor of China Harbour Engineering Company Limited to build line 1 of the Bogotá metro. This operation was historic, as it was the largest infrastructure project in Colombia as well as the most ambitious cooperation project ever signed between the Latin American country and China.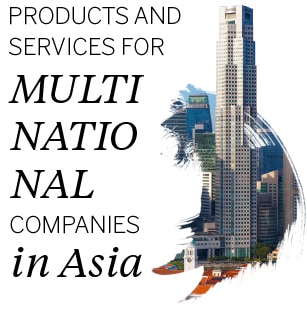 BBVA's branch network in Asia provides service to the largest multinational clients, supporting them in the coordination of their projects in the region and offering them access to a wide range of products and services they can implement from their different subsidiaries.
This global service approach presents important advantages for clients: it allows them to work with their trusted bank which they have a global relationship and commitment with, and to integrate all the services they receive in different countries.
BBVA's service offering in Asia aims to meet the needs of multinationals, and includes the management of their capital or operational expenditures (known as 'capex' and 'opex'), as well as advisory services, short or long term credit, corporate transaction banking services, trade finance for their purchases and sales, or currency risk hedging.
BBVA's global client base in Asia operates in a wide variety of sectors. These companies include:

Global technology multinationals
with Asian suppliers demanding financing for their acquisitions.

Multinationals from industrial and automotive sectors
with productive and commercial activity in Asia needing solutions for their short and long-term liquidity.

Construction and engineering multinationals
with development projects in Asia asking for project finance services.

BBVA in Asia has an experienced team of financial market specialists whose main objective is to act as a bridge between Asian investors and the rest of the global markets, with special focus on BBVA's footprint. The bank's ambition is to provide institutional investors, central banks and Asian fund managers with the best investment solutions for the different underlying assets (equities, bonds, currencies and interest rates).

Institutional investors. These clients include Funds, banks and insurance companies that normally demand fixed income products, both plain vanilla (sovereign and corporate bonds) and structured products (BBVA's own notes or those of other issuers with optionality and derivatives) in the terms defined by the client. These client demands can derive from their own investment needs as well as from the requests of their retail clients.

Furthermore, investors also demand currency hedging solutions that allow them to manage their risks. For an Asian investor with an interest in Latin American emerging markets, BBVA offers investment options in sovereign and corporate bonds, in primary or secondary markets, and also gives them the option of hedging their currency risk. All this is accompanied by the best research analysis of each country, coordinated by a relationship manager in their language and time zone.
| | |
| --- | --- |
| | Central banks and sovereign wealth funds. BBVA offers these clients tailor made products for their mandates, always with a timely execution. Thanks to this value proposition, and to BBVA's 'market maker' status in its franchise markets, the bank is for instance among the main providers of European sovereign bonds to central banks in the region. |
| | |
| --- | --- |
| | Private banking. This is a large and rapidly growing sector resulting from economic development and the increase in the number of high net worth clients in the region. Apart from fixed income products, BBVA's business focus is in providing investment solutions with equities as underlying assets that these entities can pass on to their clients. BBVA's product investment factory is leveraged on a technological platform that allows the bank to offer its clients the best possible efficiency and price, as well as an optimal risk management. |

BBVA has a long track record in Asia where we serve our corporate and institutional clients with a niche strategy that enables us to add value to their business and accompany them in their international expansion.
Our strategy with corporate clients is structured around two elements: The first element is what we refer to as 'outbound' services, consisting of a comprehensive range of financial and advisory solutions for Asian clients with operations and interests across BBVA's footprint. The second element is our 'inbound' services, i.e. solutions designed to provide our global clients with access to specific business segments of the Asian market, including structured finance, transaction banking and financing in China's local currency - renminbi – from our Shanghai branch.
Our other client segment, institutional clients, includes banks, investment funds, sovereign wealth funds and insurance companies. We offer these clients advice on product capabilities in the Latin American and European financial markets.
Asia is leading the global economic growth and will continue to do so for years to come. Its contribution to international trade is increasingly relevant. BBVA's objective is to grow and prosper in Asia and bring the opportunities of this new era to all our wholesale clients here in the region.
PABLO RIQUELME
Head of BBVA Corporate & Investment Banking Asia