"BBVA's results for the January-March period show growth in all business areas, confirming BBVA's ability to generate recurring revenues in any environment". This is BBVA CEO Carlos Torres Vila's statement regarding the Q1 earnings report released today by the company.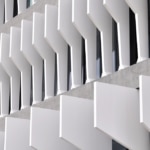 But, what do these figures tell us? Here are six key points:
BBVA earned €1.2 billion in the first quarter of 2017, 69% more than during the same period of the previous year. Three factors were behind these positive figures: The first one was the favorable income trends. Positive performance in recurring revenue (net interest income plus fees), in combination with the positive contribution of net trading income, drove gross income growth up: it rose 10.3% to €6.38 billion. The second factor was cost containment efforts, which translated into a decline in expenses of 1.2%. All this led to an improvement in the efficiency ratio, which closed under the 50% threshold (49.1%). As a result, income and expense trends generated 'positive jaws': higher growth in the revenue than in expense line items. Third, a drop in impairment losses on financial assets also helped underpin this growth.
Improvement in risk indicators. The NPL ratio at the end of the quarter stood at 4.8% (4.9% in December 2016) and the coverage ratio increased to 71%.
Stronger capital ratios. BBVA closed the first quarter of 2017 with a fully-loaded CET1 ratio of 11.01%, in line with its target for 2017 (11%).
Growth in digital sales.  In Spain, the percentage of transactions conducted through digital channels was 24%, compared to an average 17.1% in 2016. In Turkey, the percentage grew from 25.2% in 2016 to 30.1% in March 2017. Digital sales also gained momentum across all regions. In the year through March, in the U.S. these sales represented 21.7%, in South America, 22.3%, and in Mexico, 13.6%.
At the end of March, BBVA had 19.3 million digital customers (20% more than in March 2016). Of these, 13.5 million were mobile customers, a 41% y-o-y increase.
Resilience across all franchises in a complex global environment. Net attributable profit in Spain reached €375 million, a 54.2% increase compared to the first quarter of the previous year. In the U.S., focus on price management and the hike in interest rates propelled net interest income growth (8.2% y-o-y). The area's net attributable profit was €134 million, up 163% compared with the first quarter of 2016. In Mexico, profits grew by 19.2%, closing at €536 million. Turkey's profits also grew at a notable rate (+45.7% y-o-y at constant exchange rate), to €160 million. In South America, activity continued growing both in terms of investment and of resources. The area earned €185 million (8.7% less than one year before).