At the Digital Business World Congress held in Madrid from May 23-25, BBVA explained why its Open APIs are the perfect tool for a new era of the digitized economy.
The fintech revolution could not miss out on having a spot at such an important event like the Digital Business World Forum. 20,000 professionals interested in digital transformation attended the forum in Madrid.
BBVA, one of the banks that is most involved in the impact of new technologies on finance, participated in the event. BBVA focused on the role of open APIs in the fintech revolution.
These APIs (Application Program Interface) are the perfect tool for the bank to develop its vision of how to act in the new financial ecosystem, which will fundamentally come into existence when the European directive PSD2  is transposed to Spanish legislation in 2018. The EU regulation obliges financial institutions to share their data, which drastically lowers market entry barriers for new competitors.
For now, the most cutting-edge financial institutions are preparing for this new environment before it arrives.
It's not just a question of whether the legislation has been transposed, as Francisco Estevan CEO of Innsomnia (Bankia's financial startup incubator said during one of the presentations. There is also a lack of maturity in the market. "We need time and haveto educate the consumer," he said. Consumers will see that if they give their consent,their banking data are used by companies that will offer them services that probablydon't even exist today.
In this situation, on the verge of year zero for banks, "we are seeing three types of attitudes in financial institutions," explained Raúl Lucas, Spain Country Manager for Open APIs at BBVA: "Those who aren't doing anything and are waiting to see what happens; those who think they are protecting themselves by complying with the directive without going even one step beyond; and those like BBVA who want to build a new ecosystem with the new rules," he explained.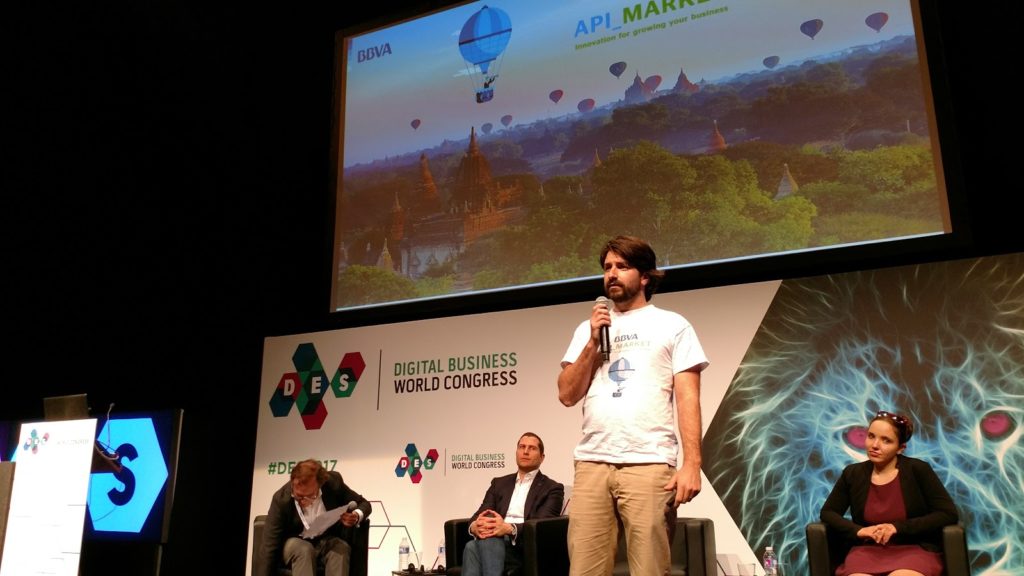 Raúl Lucas during his presentation at the Digital Business World Congress.
"It is a complicated process in the beginning, but we are going to collaborate with all types of fintech firms and even with companies from other sectors to build new products and win over new customers," he insisted.
It's a collaborative approach  differs from what has traditionally been the banking business – fairly unwilling to share information and break down its walls – but it is also the logical outcome of a totally new business climate. "And we aren't naive," explained Lucas, "We want to be the leaders of this ecosystem."
To make this a reality, BBVA has so far developed eight types of APIs  – Customers, Accounts, Cards, Payments, PayStats, Loans, Notifications and Business Accounts – which are the doors through which other companies of all sizes and from all sectors can open new lines of business and strengthen their digital transformation in ways they had never imagined.