The BBVA Bancomer Tower is not just the colossus that welcomes passersby to Paseo de la Reforma - the city's most prominent avenue, where also the pre-Hispanic and contemporary Mexicos meet – but it is also a prime example of architectural creativity.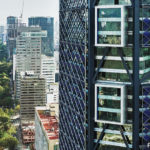 A collaborative effort by British Richard Rogers, and his Mexican counterpart, Ricardo Legorreta (his son, Víctor Legorreta, took over the project after Ricardo's untimely demise), these two studios – with different architectural styles but values in common – devised a proposal that resulted in a new architectural solution that epitomizes the modern evolution of Mexico City.
Taking into account the basic elements of a work of art, such as aesthetics, style, concept value and context, the BBVA Bancomer Tower combines within its inner physical space each one of these components and represents them through designs that, in a simple manner, create environments that evoke the position of solidness, transformation and innovation that characterizes the financial institution.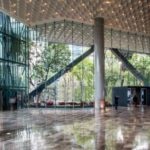 The modern main lobby of the BBVA Bancomer Tower, located at 510 Paseo de la Reforma, Mexico City. - Photo courtesy: ® LOURDES LEGORRETA.
The works that comprises BBVA Bancomer's art collection have embellished the walls of its different corporate buildings since the earliest days of its history. Soon, the BBVA Bancomer Tower will boast 114 works of art, including paintings, sculptures and graphic works by notable artists such as Diego Rivera, Manuel Felguérez, Leonora Carrington, David Alfaro Siquieros, Mathias Goeritz, Juan Soriano and Pedro Friedeberg, all of whom transcended their own era thanks to the genius and innovation that they infused their works with.
Recently, some of these works travelled across the most important cities of the Mexican Republic as part of the exhibition entitled 'Plastic Parallelisms in Mexico. Four decades of the BBVA Bancomer Collection (1960-1990)', consisting of 71 works by 61 artists of international and domestic renown. Now, a new space awaits them to continue enhancing with their beauty and aesthetics the new corporate headquarters of the bank.
Towering over the junction of Paseo de la Reforma and calle Lieja stands Mexico City's most modern building, designed in pursuance of a groundbreaking architectural conception. A building that has already claimed its spot among the landmarks of the urban landscape of a city where art and culture coexist on a daily basis with the different expressions of the almost nine million people that live in the city.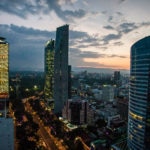 Panoramic view of the BBVA Bancomer Tower at dusk, Mexico City. - Courtesy © MARÍA DOLORES ROBLES -MARTÍNEZ GÓMEZ.