The BBVA Classic is slated to start tonight at 7:30 p.m., featuring the Houston Dynamo and Club América from Liga BBVA. While the match is garnering much attention for multiple reasons, the biggest significance of the game boils down to one word: Charity.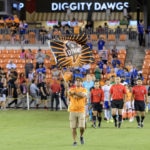 The BBVA Classic, formerly known as Dynamo Charities Cup, began in 2009 as a way for the Houston Dynamo and the bank to give back to the communities and city it calls home.
The game is an annual exhibition match featuring the Houston Dynamo and an international opponent, with a portion of match revenues going toward a Houston-area charitable organization. Although it now dons a different name, the mission remains the same.
Below are highlights from over the years in which the game has been in existence - and how a simple soccer match has transcended beyond the pitch and has served neighborhoods and people who need it most.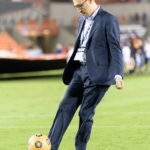 BBVA Group CEO Onur Genç, then BBVA Compass CEO, kicks a soccer ball before the 2017 BBVA Compass Dynamo Charities Cup, now named the BBVA Classic.
Over the years
2009: The first ever Dynamo Charities Cup game is played. The Houston Dynamo best C.F. Monterrey in the inaugural match, 2-1. The event had an attendance of 10,456.
2012: The first BBVA Compass Dynamo Charities Cup game is played at the new BBVA Compass Stadium in Houston's historic East End neighborhood, against Valencia C.F. The Spanish club beats the Dynamo 2-1.
2016: The 2016 match, featuring Real Sociedad of Spain's La Liga, saw a thriller with the Dynamo winning via penalty shots. In addition, proceeds from the match benefited the Pursuit for those with disABILITIES bicycle ride, a 3,500-mile cross-country trek to raise money and awareness for adults with intellectual and developmental disabilities.
2017: The match saw its first national television audience in an effort to help raise as much money as possible for the game's non profit beneficiary: the Hurricane Harvey Relief Fund established by Houston Mayor Sylvester Turner and then-Harris County Judge Ed Emmett.
2018: The 2018 match aimed to benefit the KIPP Opportunity Campus. The KIPP Opportunity Campus includes KIPP NEXUS elementary and KIPP NEXUS middle school, is located in Northwest Houston and is the newest campus in the KIPP Houston Public Schools system. The campus was made possible by the BBVA Compass Foundation's $1.8 million donation made in 2015, the bank's largest ever education investment.
2019: BBVA Compass Stadium changes its name to BBVA Stadium in a press conference, also announcing the newly-named BBVA Classic beneficiary: The Tejano Center for Community Concerns, a neighborhood resource center for families across Houston. The center, originally founded in East End in 1992, strives to develop education, social, health and community institutions that empower families to transform their lives.