BBVA Compass brand ambassador Sandra Lee turns west to share her business insights
It's not every day you hear about a bank teaming up with a multi-Emmy award-winner to create opportunities for people and places across the country, but that's exactly what BBVA Compass and national television personality Sandra Lee have been doing for over a year.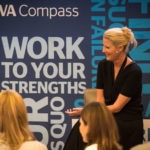 Lee, author of multiple New York Times bestseller books, and joined forces with the bank in 2016 to bring key insight to business owners and how they can build their own success, much like Lee. BBVA Compass has utilized the nationally renowned entrepreneur as a brand ambassador across its footprint, most recently in California and Arizona.
"Sandra has been to Texas to help with our Super Bowl efforts, traveled to Florida, Colorado and Alabama to host client forums to tell her story, and has produced videos with BBVA Compass highlighting the importance of small business in this country," said BBVA Compass Chief Marketing Officer Jennifer Dominiquini. "So we wanted to bring her further out west to Los Angeles, San Francisco and Phoenix to spread her success story and how aspiring entrepreneurs can follow in her footsteps, especially in the every-growing and competitive digital age."
BBVA Compass held client forums in each market, where Lee talk about her story of being brought up in a low-income environment, raising her siblings at a young age, gaining success in her twenties and turning her aspirations into a million-dollar enterprise.
Along the way, Lee gave interviews to local print and broadcast media outlets detailing her involvement with the bank, shot videos for social media and online distribution that focused on technology and digital transformation, community involvement, and philanthropy and participated in the bank-sponsored Television Industry Advocacy Awards benefiting The Creative Coalition hosted by TV Guide Magazine & TV Insider.
"Sandra built her brand from the ground up, has a unique rags-to-riches story, and is helping the bank stress the importance of small business and how they can stand out utilizing hard work, digital products, and innovative ideas," said Dominiquini.
Other visits Sandra Lee visited for client events and
Austin, Texas
Birmingham, Ala.
Denver, Colo.
Fort Worth, Texas
Jacksonville, Fla.
San Antonio, Texas