Music
Updated: 07 Nov 2018
BBVA Compass Brand Ambassador Tyler Dial releases single, to be followed by new album
BBVA Compass Brand Ambassador Tyler Dial, graduating from the University of Texas on Friday, May 18, has released a graduation day single, "Truth in the Way," to be followed by his full EP, Repaint, on May 25.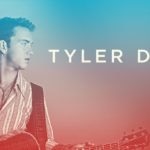 Pre-orders for the five-track Repaint EP are currently available on iTunes and pre-save on Spotify. iTunes purchasers will receive an immediate download of "Truth in the Way".
"I'm humbled and amazed by the team we are building and the progressive new art we're creating," said Dial.
Though just 22 years-old, Dial has deep roots in country music and was recently named a BBVA Compass 2018 Brand Ambassador, expanding his role at the bank compared to previous years. His 2018 summer tour will include events in BBVA markets across the U.S. as well as appearances tied to the bank's agreement with the world's leading sports and live entertainment company, AEG, including concerts and brand activations at some of AEG's key venues.
Dial had been a bank brand ambassador since 2016, and since then has teamed with BBVA Compass for multiple events and initiatives designed to bring the bank's brand mission to life. Events have included the BBVA Compass LiveBright Bash held at BBVA Compass Stadium in Houston before professional football's biggest game came to town in 2017.
"It was my first time ever playing in a large stadium," said Dial in a Q&A with the bank's external communications team. "Thanks to BBVA, we opened for Jake Owen, one of my big influences when I first started writing songs. After the show, I signed autographs and hung out with new fans for over an hour which was very special."
During his four years at the University of Texas, Dial was a regular on the Austin, UT and Texas music scenes – with his eyes set on May 2018 and a full-time move to Nashville. To hear more great music and get updates from Tyler Dial, go to www.tylerdial.com.