BBVA Compass brand ambassador Kevin Durant will take to the court tonight in the second round of the NBA Playoffs with a brand-new honorific: the 2013-2014 Kia NBA Most Valuable Player.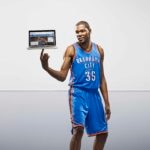 The MVP award announced Tuesday is Durant's first. 
"Congratulations to Kevin for a phenomenal season," said BBVA Compass Chairman and CEO Manolo Sánchez. "It's an honor to be aligned with such a role model. His remarkable strengths — skill, teamwork and dedication — are why we put him front and center in our efforts to connect with NBA fans."
Durant has been a brand ambassador for BBVA Compass, Official Bank of the NBA, since last year. He starred in its ad campaign, "Anywhere Banking," as an example of simplicity, humility and dedication. He also was the face of NBA Banking, BBVA Compass' first all-digital account.
Durant's scoring average made him this season's biggest standout. He averaged a career-high 32 points per game, with 7.4 rebounds and 5.5 assists. He shot .503 from the field, .391 from three-point range, and .873 from the free throw line, leading all players in free throws made (703) and attempted (805). Durant put up two 50-point games, topped the 40-point mark on 14 occasions, and turned in 17 games with at least 30 points and 10 rebounds.
The regular season MVP is the annual award given by the NBA to the best player in the league. The votes are compiled from sports journalists, radio and television announcers and analysts in the United States and Canada. Durant racked up 1,232 total points, with 119 first-place votes. Another BBVA brand ambassador, the Houston Rockets' James Harden, landed in the top five with 85 total points.