Driving into San Antonio, familiar landmarks dot the downtown skyline, including the famed Alamodome and the needle-like Tower of Americas.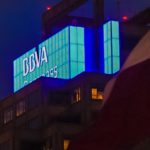 BBVA Compass' name was added to the mix recently, as the bank celebrated its new signage atop the city's tallest office building, the Weston Centre, in a lighting celebration held at the St. Anthony Hotel's Sky Terrace. The new signage marks the start of the bank moving its San Antonio headquarters to the building's first two floors, to be completed in the next few months.
"We not only say we're committed to our communities, we show it through our actions," said BBVA Compass San Antonio Commercial Banking Manager Ryan Parker. "The city's downtown area is going through a revitalization - an economic boom – and we're thrilled that we can contribute to its bright future. The prominent bank signage on one of the city's most recognizable buildings was the cherry on top of it all."
We not only say we're committed to our communities, we show it through our actions
The ceremony, which had a total attendance of 160 people, included appearances from county and city officials, and BBVA Compass Texas Regional Executive Jeff Dudderar. At the event, Dudderar signaled the new chapter in San Antonio for BBVA Compass by ceremonially counting down to the initial lighting, punctuated by a mariachi band surprising the crowd after the sign turned on.
"When you drive around the downtown area, you'll see the Alamodome, the Tower of Americas, and BBVA Compass," said Dudderar to attendees. "Think about that. We're part of the San Antonio fabric."
The bank, which signed a lease in May 2016, will occupy 9,631 square feet of the first floor for a retail branch and 19,275 square feet on the second floor for corporate offices. The spaces have undergone renovations to reflect BBVA Compass' ongoing efforts to cultivate a unified and cohesive team.
Offices on the second floor will boast an open space layout to maximize collaboration and innovation. The offices will feature Wi-Fi and Bluetooth technologies, shared public spaces, collaboration areas and private meeting rooms.