BBVA Compass lends support to AFP Aware for ninth consecutive year
For the ninth consecutive year, BBVA Compass once again sponsored the AFP Aware community service project, a campaign where the annual AFP Aware conference gives back to the region where the conferences is held.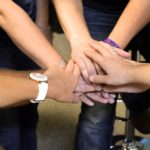 This year, the conference was held in Chicago, where it partnered with A Safe Haven Foundation, which provides shelter and services to Chicago-area residents who are struggling with homelessness, addiction, abuse and other issues. The nearly 25-year-old nonprofit operates a network of over 36 multifamily locations for permanent and senior affordable housing, as well as a temporary housing program that includes meals, case management, drug and alcohol treatment, healthcare, and job training and placement.
"We believe in creating opportunities for everyone," said BBVA Compass Executive Director of Treasury Management Solutions Karen Grekstas. "Giving back to the community does help to create opportunities for all, one kind act at a time. We are very proud of the commitment we've been able to make to this special event."
ASHF offers classes for GED test preparation, resume building, relapse prevention, financial and computer literacy, health, and nutrition. The organization also has apprenticeships in welding, landscaping and culinary arts, as well as vocational training in housekeeping, security and customer service.
(Story continues below) 
BBVA Compass also supported AFP Aware's PaintFest, which had attendees paint pre-drawn murals provided by the Foundation for Hospital Art. The murals were donated to children's hospitals across the country.
AFP Aware is centered on three guiding principles: workplace, community and environment. The community service project provided AFP 2018 attendees with an opportunity for personal growth, while making meaningful connections with other members.
More information on the conference and the charitable campaign can be found here.