BBVA Research publishes economic analysis: Signs of sustained labor market momentum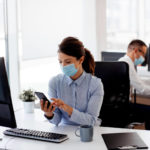 Non-farm payrolls grew by 1.4 million and the unemployment rate dropped to 8.4 percent. In addition, the number of people on temporary layoff declined by more than 3 million, while the labor force participation edged up to nearly 62 percent.
The analysis, co-authored by BBVA Chief Economist Nathaniel Karp and Senior Economist Boyd Nash-Stacey, highlights the reverse in weekly hours declines from previous months, with all major industries except education and healthcare reporting a gain. Likewise, weekly earnings posted a solid 0.4 percent monthly gain, implying a 4.7 percent increase in the last 12 months.
The report imprints an upside bias to the research team's short-term forecasts and suggests that labor market conditions could normalize sooner than expected. However, given the magnitude of the fallout due to the pandemic, a full recovery to "maximum employment" is still likely to take time, while wage-inflation pressures will remain contained. Based on the Federal Reserve's updated Statement on Longer-Run Goals and Monetary Policy Strategy, this implication is that policy rates and the yield curve will remain low for a prolonged period.
BBVA USA's research team analyzes the U.S. economy and Federal Reserve monetary policy. For its analyses, the economists create models and forecasts for growth, inflation, monetary policy and industries. The Economic Research team also follows a variety of issues that affect the Sunbelt states where BBVA USA operates. Follow their work on Twitter @BBVAResearch and @BBVANews_USA.
Read the full report here.
---
See the complete library of BBVA Research publications here.