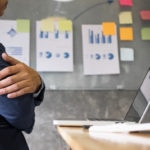 The report, published by the entire BBVA Research team headed by BBVA Chief Economist Nathaniel Karp, shines a light on the economic and social impact of COVID-19.  According to its authors, the pandemic has exposed major fault lines previously hidden by the longest economic expansion on record and has forced draconian measures that caused massive job losses and the worst recession since World War II, exacerbating poverty and income inequality.
While maintaining its baseline for growth in 2020 at -5.1 percent and 3.5 percent in 2021, the quarterly outlook highlights the importance of the timing, scope and effectiveness of social and fiscal policies in determining the possible shape of the economic recovery. The report notes that containment will be the key determinant.
The BBVA Research publication further delves into labor market forecasts, the change in the personal savings rate and consumer loan balances, and possible next steps for the Fed.
BBVA USA's research team analyzes the U.S. economy and Federal Reserve monetary policy. For its analyses, the economists create models and forecasts for growth, inflation, monetary policy and industries. The Economic Research team also follows a variety of issues that affect the Sunbelt states where BBVA USA operates. Follow their work on Twitter @BBVAResearch and @BBVANews_USA.
Read the full report here.
---
See the complete library of BBVA Research publications here.