BBVA Research publishes July U.S. Regional Outlook, June employment report
The BBVA Research team has published two reports: its U.S. Regional Outlook for July, highlighting key factors impacting regional economies, along with its economic analysis of the U.S. employment report. The COVID-19 pandemic continues to impact job growth and other economic indicators.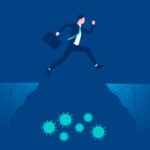 U.S. Regional Outlook for July 2020
The report, authored by BBVA Senior Economist Kan Chen, notes that the ongoing pandemic is expected to continue damaging regional economies at an uneven pattern. As the curve flattens in New York and New Jersey, two early epicenters, the outbreaks have shifted south and west as California, Arizona, Texas and Florida become new hotspots.
As expected, states with higher cases of Covid-19 experience worse job losses, and states with a larger hospitality sector (Nevada and Hawaii) and auto industry (Michigan) have been affected disproportionately.
The outlook indicates that both individuals and businesses are voluntarily cutting consumption and investment to boost their rainy day savings.
Read the full report here.
Economic Analysis on June Employment Report
The analysis -- co-written by BBVA Chief Economist Nathaniel Karp and Senior Economist Boyd Nash-Stacey -- indicates that, despite improvements, there are still 12 million more people unemployed today than was the case in February,
While the June employment report shows further signs of expected strengthening in the labor market, there remain significant disparities among groups. BBVA Research's report indicates that for those without a high school diploma, the unemployment rate stood at 16.6 percent, which is two and a half times higher than those with a college degree. Similarly, unemployment among women was one percentage point higher than men. Overall, trends reflect the more pronounced impact of the pandemic in industries with a higher concentration of minorities, women, less-educated, younger and lower-wage workers.
See the full report here. 
---
Led by Nathaniel Karp, BBVA USA's research team analyzes the U.S. economy and Federal Reserve monetary policy. For its analyses, the economists create models and forecasts for growth, inflation, monetary policy and industries. The Economic Research team also follows a variety of issues that affect the Sunbelt states where BBVA USA operates. Follow their work on Twitter @BBVAResearch and @BBVANews_USA. See the complete library of BBVA Research publications here.