Sport
Updated: 03 May 2021
BBVA USA and the Houston Rockets team up to send "care packages" to small businesses
BBVA USA and the Houston Rockets teamed up to send "care packages" to small businesses in the Houston area impacted by the pandemic over the past year.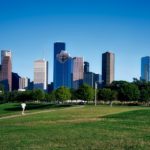 The campaign, called "Banking on Houston", calls attention to the resilience of small businesses across greater Houston. Specially developed packages, which include marketing assets such as social media content, hospitality perks, and radio advertisements, will extend the benefits of a traditional sponsorship agreement to these businesses at no charge. The assets are designed to boost visibility and business growth opportunities for each participating partner. BBVA selected the businesses, which include the Hispanic Chamber of Commerce, Global Edge Consultants, Custom Chemical and Latin Specialties.
"Our sponsorship with the Houston Rockets over the years has created ample opportunities for the Houston community, including its small businesses," said BBVA Houston CEO Dillan Knudson. "The past year has been extremely challenging for these businesses. Our continuing commitment is to assist them in any way possible, including through our efforts in the Paycheck Protection Program. This is just one more way we're doing so, in this case leveraging our collaboration with the Rockets to benefit our communities."
As part of the care package, BBVA will pay tribute to each business in media channels associated with Rockets games, including radio and social media. BBVA and the Houston Rockets will also promote each business's brand on their social media channels, in addition to providing tickets to select Rockets games for potential client hospitality.
"Over the past several years, the Rockets have worked with BBVA to support small businesses and highlight their contributions to our Houston community. This expanded program is an opportunity to showcase businesses that stepped up to support Houston in a time of crisis. We're grateful that through our partnership with BBVA, we are able to recognize such a diverse group of small businesses that really represent the best of Houston," said Gretchen Sheirr, Chief Revenue Officer of the Houston Rockets.
A brief description of each business selected to participate in the Banking on Houston campaign is below:
BBVA's commitment to the small business community throughout the past year has been extensive, including its Paycheck Protection Program (PPP) efforts. After the program's first wave, BBVA announced in May 2020 that it had funded approximately $3.3 billion small business loans in less than 60 days, processing more than 22,000 applications and impacting approximately 360,000 jobs.
The bank consistently punches above its weight class for the SBA lending component of its small business portfolio, ranking in the top 15 nationally each year. In the case of PPP, the bank loaned in less than 60 days what it might typically do over the course of ten years.