BBVA USA to donate $25,000 through its foundation, supports United Way of East Central Alabama tornado relief fund
As Central Alabama deals with the aftermath of 11 confirmed tornados on March 25, BBVA USA has announced it will donate $25,000 toward community relief efforts through the BBVA Foundation. The tornado recovery grant will support the United Way of Central Alabama.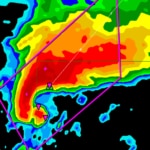 "This has been a challenging time for so many people across central Alabama, especially those in Ohatchee and other communities in Calhoun and Randolph Counties," said BBVA USA President and CEO Javier Rodriguez Soler. "We wanted to move fast to support our customers and communities through the United Way to help them quickly recover from the devastating storm damage."
In addition to community support, BBVA has also activated a Disaster Relief Fund for the bank's full and part-time team members. Employees who are significantly impacted may also be considered for a grant from the BBVA Compassion Fund, an employee grant fund first started to support employees in the aftermath of Hurricane Harvey and expanded in 2020 in response to COVID-19. Employees are encouraged to donate to the fund which supports team member needs, and BBVA USA will match their contributions dollar-for-dollar, up to an additional $100,000.