Civil wars, banks that went almost as fast as they came, the brand-new issuing monopoly of the Bank of Spain, unrest in Spanish overseas territories… the later years of the 19th century sure did look challenging for institutions such as Banco de Bilbao. Although the bank had earned a solid footing in its home city, Spain's situation at that time made it hard to tell how it would fare in the short and medium term.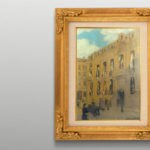 On 17 June 1878, having been stripped off of its issuing powers, Banco de Bilbao was reincorporated by deed. Four years later the bank renewed its corporate bylaws and increased its corporate capital to 5 million pesetas.
Although the bank was confident that the impact of the revocation of its issuing powers would be limited, the booming economic Bilbao and neighboring areas not only dispelled any lingering fears, but helped boost the institution's business, driven by trade and industry lending activity.
Business soon outgrew the corporate premises, forcing the bank to purchase the adjoining building in Arenal street, as well as two buildings in Calle de los Fueros. After this operation, the institution was granted permit to open a street between calle de los Fueros and the San Nicolás plaza, which was named Calle del Banco de Bilbao,  a name that has continued to this day.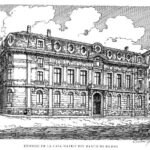 In 1890, Spain went through a money scarcity episode, which caused Banco de Bilbao to apply an adjustment policy through interest rates. The following year the bank increased its share capital to 10 million pesetas.
The Bank's de facto monopoly in Vizcaya's capital city was truncated by the foundation, in 1891, of Banco del Comercio, under the auspices of leading industrial naval and mining entrepreneurs. Indeed, a key figure in the creation of the Bank was Víctor Chávarri, one of the most prominent industrialists of the era, with support from other leading businessmen, such as shipbuilder Ramón de la Sota, who were determined to offer an alternative to Bilbao's only financial institution, driven by a number of reasons, including their conviction that the Banco de Bilbao was not catering to the burgeoning Biscayne industrial community as it should have.
Due to high demand for banking services, the arrival of Banco del Comercio did not bring any detrimental effects to Banco de Bilbao and fresh competition proved beneficial not only for users, but also for the healthy growth of both banks' businesses. As the late 19th century neared its end, both banks' started shifting their focus towards more commercial activities which resulted in solid growth in lending, without disregarding their industrial focus.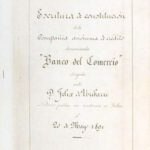 Cover of the deed of incorporation of Banco del Comercio - BBVA
Despite the tremendous cost of the wars that Spain was fighting overseas, the cities in Northern Spain, and Bilbao for that matter, were hardly noticing the impact of the military actions. On the occasion of the 40th anniversary of the Foundation of Banco de Bilbao (1897), the company's board members took stock of the company's standing, describing the company's situation as "abundant in resources and growing in prosperity." In 1898, Banco de Bilbao continued buying real estate properties and with the purchase of the three additional buildings – in calle de los Fueros and calle Ascao – it was able to complete the block-wide expansion of its headquarters.
For Northern Spain's financial industry, the turn of the century brought a significant increase in activity. Between 1899 and 1901 a series of institutions were founded such as Banco Guipuzcoano, in San Sebastian (1899), Banco de Vitoria (1900), Crédito de la Unión Minera, Bilbao (1901) and Banco de Vizcaya, also in Bilbao (1901).
Concerned by the pace at which new banks kept popping across the Basque territory, the boards of Banco de Bilbao and Banco del Comercio agreed to merge in 1901. As a result of the merger, Banco del Comercio became a subsidiary of Bilbao, preserving its name and legal and commercial identity.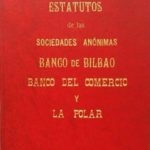 Cover of the Articles of Association after the merger between Banco de Bilbao, Banco del Comercio and Polar de Seguros. - BBVA
Banco de Vizcaya
The bank was established on 26 March 1901 before Martínez Carande, Notary of Bilbao. The shareholders signing the deed of incorporation were:
Pedro Maíz y Arsuaga
José María de Basterra y Ortiz
Rafael Picabea y Leguía
Pedro Mac-Mahon y Aguirre
Tomás Urquijo y Aguirre
Banco de Vizcaya was founded with a social capital of 15 million pesetas, of which only 3,800,000 had been disbursed as of the end of 1901. The bank's first headquarters were located in calle Vidaurreta, 12 -1º. Soon, the bank moved to the ground floor of numbers 2 and 3 of calle Viuda de Epalza, where it would remain through 1903, when, due to growth in size, the board decided to move to Gran Vía, 1, where the institution's headquarters would remain for the rest of its life.
One of the main reasons that drove Banco de Vizcaya's founders to establish had to do with becoming a driver of business, offering support to emerging industrial endeavors and other enterprises that had not been appropriately served by the existing banks. Of course, Banco de Vizcaya was also incorporated with a clear vocation to offer lending and discount services, just as the rest of its competitors.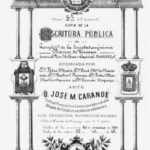 Banco de Vizcaya's Deed of Incorporation - BBVA
From the beginning, Banco de Vizcaya kept a strong focus on the industrial sector, and more specifically the hydroelectric and power generation industries. As proof of its commitment, the bank commissioned board members Pedro de Orúe y Olavarría and Pedro Maíz y Arsuaga, together with General Manager Enrique Ocharán y Rodríguez to establish the Sociedad Hidroeléctrica Española, with a share capital of 12 million pesetas, one of the many industrial corporation in which Banco de Vizcaya participated.
Over time, Banco de Vizcaya's keen interest on industry-related projects earned it the industrial bank label, a distinction into which, strictly speaking, it did not fit, although it did conduct most of its business with the region's industrial leaders.
The 20th century had just begun and in more crowded financial landscape in Northern Spain, two banks – which almost 100 years later would end up understanding each other to the point of merging - had started competing. But until they reached that point, both Bilbao and Vizcaya would each have to write their own compelling history.