Credit cards are a useful financial tool that can be utilized in various situations.
However, not everybody carries a credit card. Some people may want to simply use a debit card, or some may not have a good enough score required to obtain a credit card. This could prove difficult in certain situations - especially when trying to rent a car.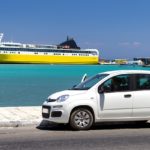 This poses the question: Can you rent a car with a debit card?
While BBVA Compass highly advises the use of a credit card in these instances, situations may arise that could call for an alternative route.
Whether you're on vacation, stranded at an airport, left without alternate transportation while your car is in the shop, or because of an emergency, if you're without a credit card, you may find it difficult to rent a vehicle.
Here are a few tips from BBVA Compass Director of Payments Jon Groch that could help you secure a rental if you only carry a debit card in your wallet.
Have available cash in your account. Rental companies can charge you the rental amount at the time of pick-up, rather than drop-off. They could take out extra money for incidentals, but will return it after the car has been dropped off.
Make sure you have a proof of insurance handy. If you don't have insurance, you might have to purchase coverage from the rental company.
If you're traveling, proof of return travel from the area you're renting the car from may be needed, depending on the rental company.
Keep multiple identification documents handy. Companies may ask for extra I.D. at the time of pick-up.
When all else fails, call multiple rental companies and ask about policies regarding renting with a debit card. Pick the best one for you.
In all, be over-prepared when you rent a car with just a debit card. It could help you secure transportation in a time of need.
Click here for more information on BBVA Compass's Optimizer Credit Card, designed to help those who need to build or improve their credit history.