Carlos Torres Vila: "BBVA's purpose, strategy and values are more relevant than ever"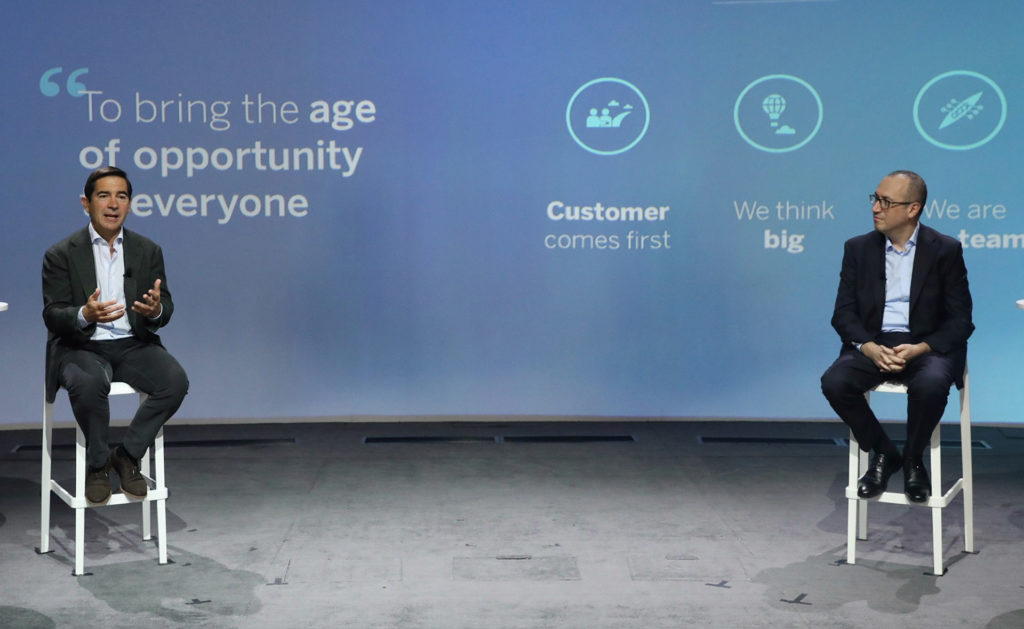 BBVA's executive chairman joined CEO Onur Genç at the bank's headquarters in Madrid to participate in an employee meeting where they reviewed lessons learned from the crisis and how the bank's strategic priorities have proven their resilience in the face of the recent challenge. Carlos Torres Vila believes that, in the current context, BBVA's purpose, strategy and values "are more relevant than ever." Together with Ricardo Forcano, global head of Engineering and Organization, and Carlos Casas, head of Talent & Culture shared further details about the bank's plans for Spain and Turkey where the pandemic statistics favor a return to the workplace.
During the event, which was called 'Our way back, our way forward,' Carlos Torres Vila said to the thousands of employees who dialed in worldwide, that "from the onset, we stepped up to make a difference, acting as one team, with determination and foresight, doing everything in our power to contribute to defeating the crisis." 
The Group's chairman affirmed that "digitization and remote management have been growing year on year; and more so over this period. They have been the right thing to do and confirm our commitment." This strategy has allowed BBVA "to be closer than ever to our customers, providing them services and advice, and even giving emotional support during such extraordinary circumstances, at a time when it was most needed."
Carlos Torres: Digitization and remote management have been growing year on year; and more so over this period. They have been the right thing to do and confirm our commitment
In his opinion, the past few months have demonstrated that "it is critical that we prepare a better future for coming generations." Carlos Torres Vila stressed that "sustainability and social inclusion are key strategic levers."
Onur Genç highlighted the Group's strength, both in terms of capital and liquidity across its footprint. He explained that while the crisis will have a significant impact on the bank's balance sheet in the short term — especially due to greater provisions, — he reaffirmed  BBVA's strategy regarding its customer relationship model, which leverages digitization and the use of data to offer expert advice to become a trusted advisor.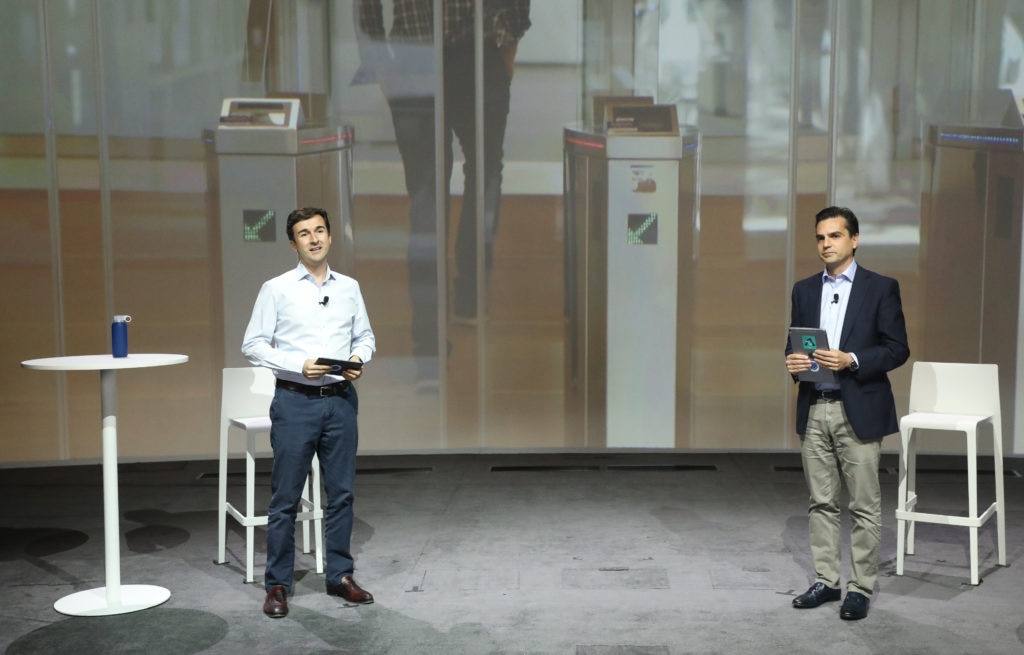 Ricardo Forcano and Carlos Casas.
A data-driven return-to-work plan
BBVA's CEO said that returning to the office in those countries that are resuming activity is part of a need to recover a sense of work normality.
BBVA global head of Engineering and Organization Ricardo Forcano followed-up by detailing the return-to-work plan. Forcano explained that BBVA is making its decisions dynamically and based on data about the pandemic's trends and business performance. Consequently, the specific return dates and how quickly the process evolves will vary between countries and business areas. As an example, he outlined the reopening of the branch network in Spain, which reached 100 percent last week. In other countries, like Turkey and the U.S., BBVA has already reopened 98 percent and 93 percent of its offices, respectively. Across the Group's footprint, they are close to 80 percent.
All this goes hand-in-hand with the necessary preventive measures.  Forcano mentioned the use of online appointments in order to control the flow of people at branches and the use of polycarbonate screens between bank employees and customers. In addition, face masks will be supplied to the staff and hand sanitizer gel to customers and employees alike.
Carlos Casas, head of BBVA Talent & Culture, explained how the bank has organized the return to the workplace for central services roles. BBVA plans to gradually open its corporate buildings as the pandemic figures show positive signs. Specifically, from July 1 BBVA will reopen the central service locations in Spain and Turkey so that teams can begin combining onsite-working with remote working. Employees who need to maintain remote working at 100 percent during these coming weeks will be able to do so, in Spain, this measure will apply until September.
A hybrid work model
Casas emphasized the positive lessons learned over the past months such as the confirmation that remote working could successfully sustain business operations without causing a decline in productivity. In addition, he recognized the employees' favorable view of the flexibility associated with the new way of working.
The BBVA head of Talent & Culture set out the main tenets of the bank's work model, which will reinforce a hybrid model that combines a mix of onsite and remote working. 
BBVA will thus combine the best of both worlds. "We are going to start experimenting with several things. In this return plan, all teams will test different ways to mix working onsite and offsite." To finish, Carlos Casas said that "we will learn and we will reach conclusions. so in the future we can continue to promote new ways of working."