El Corte Inglés adds Bizum to its online payment methods, thanks to BBVA
El Corte Inglés and BBVA have signed an agreement to include Bizum as a payment method for the online purchases customers make on both El Corte Inglés' website and app. The bank collaborated with the distribution group by providing the contractual and technological framework to allow the company to add this new PSD2 adapted payment system, reducing the average time to make a purchase compared to card payments.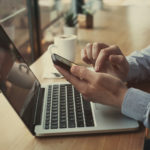 El Corte Inglés selected BBVA, one of the financial institutions with the largest market share among Bizum individual customers, as its partner to introduce this service as part of its website's payment methods, along with bank cards, the El Corte Inglés card, Paypal, financing lines and cash on delivery. BBVA e-commerce experts and the distribution group collaborated to establish a contractual and technological framework to enable the use of Bizum.
The inclusion of Bizum as one of its payment methods is part of El Corte Inglés' commitment to omnichannel digitization, its passion for customer service and its constant adaptations to societies' new needs. In addition, this service makes the shopping experience easier with a safe and simple process in which users only have to enter their phone number and confirm a double factor authentication.
Bizum is an innovative payment method that was first established in Spain in 2016, and has become one of the most popular in the country, with more than 12 million active users and over 230 million transactions. Even though this service was not available to businesses until November 2019, lots of companies have launched this service thanks to BBVA. Incorporating Bizum means adding a leading local payment method in Spain, with highly significant monthly growth in the customer base and the clear expectation of establishing itself as an extremely relevant local payment method in Spain.
BBVA is recognized in the market as a very innovative bank that offers the best digital experience. El Corte Inglés is a retailer that needs to be on the cutting-edge of technology. In fact, it was one of the first compañnies to adopt BBVA's innovative solutions for payment methods, with the Alipay and Wechat Pay agreements. Bizum will now join them for ecommerce.