Fintechs are on the rise. Obvious statements aside, there is proof that many are taking notice of the fintech trend happening across the country and globe.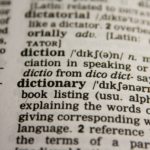 Need more proof? Probably not. But check out one of the headlines in this week's Fintech Friday and see what new development made fintechs even more official.
Here's what you might have missed in the fintech headlines:
Word play: Finally, after decades of usage, the word fintech has made its way into the Merriam-Webster dictionary. The portmanteau of financial technology was one of 840 new entries recently added to the online dictionary. Merriam-Webster defines fintech as "products and companies that employ newly developed digital and online technologies in the banking and financial services industries". (Source: Finextra)
Credit facility: Finitive LLC, a fintech platform that provides institutional investors with direct access to alternative lending investments, announced on Thursday the closing of a $50 million senior secured warehouse credit facility for new residential real estate platform Bungalow. The fintech claimed that the transaction was the first of its kind in the co-living sector. (Source: Crowdfund Insider)
Note: Every Friday, BBVA Compass, a leader in the U.S. digital banking revolution, publishes its weekly Fintech Friday article, giving you headlines you might have missed in the world of fintech across the country.