Francisco González: "Banks must play an important role in promoting financial literacy"
At a meeting today in Paris BBVA Chairman Francisco González emphasized that "financial literacy should be promoted in all stages of life, starting with the very young, and it should form part of educational curricula." During the launch of the OECD PISA report on financial literacy, he pointed out that "financial education is a priority in our Responsible Business Plan" and added that "about 2.4 million people –customers and non-customers- have benefited from our educational programs." Since 2010 BBVA has helped the OECD with funding for the PISA report on the financial literacy shown by 15-year-old students from 18 countries.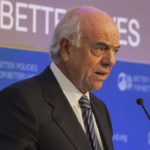 In his address during the presentation of the OECD's PISA report in Paris, Mr. González insisted that financial literacy is of immense value to society and individuals. "It helps people and families to make well-informed decisions and that always means better decisions."
He pointed out that in recent years governments have been paying greater attention to financial education. However the task of educating people to make well-informed decisions should not depend entirely on those responsible for educational policy, regulators and financial supervisors. He believes that banks also have an important role to play in promoting financial literacy.
Consistent savers and responsible debtors
He said, "Financial education can help with personal finances, improve risk management, boost savings and strengthen financial systems. Financial literacy creates consistent savers and responsible debtors."
Mr. González explained that BBVA is working for a better future for people: "This is our vision and it's based on our particular business model of principle-adjusted return: principles that entail integrity, transparency and prudence," he underscored.
This model explains why, during the crisis, BBVA required no public aid, never received a material fine and its reputation was never at risk in any country, he said. Moreover, he underlined that "BBVA practices Responsible Banking. People are truly the center of gravity in our banking activities, from the time we design a new product until we deliver it to our customers."
"One of the essential factors in this endeavor is to do everything possible so are customers can make well-informed decisions. And we achieve this through the transparency and clarity of our products and services, and by promoting financial education," added Mr. González.
"That's why financial literacy is one of the priorities in our Responsible Business Plan. From the time we began in 2008 until its conclusion in 2016, we will have invested more than €60 million in financial education," he underlined.
About 2.4 million people (customers and non-customers) have benefited from BBVA's educational programs in four areas. The first area refers to the education of the youngest group. It encourages the promotion of values associated with the use of money ("Future Values"). The second covers the responsible incorporation of unbanked segments in emerging countries ("Forward with your Future"). The third area deals with financial education on pension plans ("My Retirement"). And the last area contains training programs for small companies (SMEs).
Apart from sponsoring special programs, BBVA takes part in collaborative projects that help the educational ecosystem to continue moving ahead. For this reason Mr. González recognized the OECD's involvement in this area and appreciated the opportunity to participate in financial literacy at a global level.
Financial education in Spain according to the PISA Report
The PISA report, which is published every three years, included for the first time an evaluation of the financial literacy of 15-year-old students.