Francisco González: "The important decisions in digital banking were taken seven years ago"
This morning BBVA Chairman Francisco González explained how the bank is ready to cater to the needs of a generation of customers who grew up using the Internet, after completing its new technology platform over the past few years. He said, "In digital banking the really important decisions were taken seven years ago".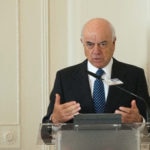 The title chosen for this year's seminar in Santander, organized by Menéndez Pelayo International University (UIMP) and the Spanish Financial Journalists' Association (APIE), is "Europe emerging from the crisis". Francisco González participated in the opening ceremony together with European Commission president José Manuel Durao Barroso; the representative of economy, finance and employment of the Cantabria regional government, Cristina Mazas; and UIMP chancellor César Nombela.Mr. González's address touched on three subjects: the challenges facing Europe to ensure its recovery, Spain's recent progress and how to improve competitive edge through technology.
To begin he pointed out that "Europe turns out to be much sounder than people thought during the crisis." Evidence of this can be seen in the road map agreed in June 2012 to push ahead with banking union, fiscal union, economic union and to strengthen European institutions.
Mr. González believes banking union is an important step in the construction of Europe and the biggest transfer of national sovereignty since the creation of the euro. He believes it is excellent news for Europe, for Spain and for a bank like BBVA because it will help to break the link between sovereign risk and bank risk. Furthermore it will also help to reduce the risk of financial fragmentation. "Now we have to complete banking union with a single deposit guarantee fund and a support mechanism to reinforce credibility," he added.
Nonetheless BBVA's Chairman stressed we have to consolidate recent institutional changes and advance towards greater integration, creating a real "Europe of Europeans."
Statement by Francisco González at the UIMP/APIE course
In the short term he said we need to increase the flow of credit to companies, set up a job creation plan for the young and provide more training for workers in the European peripheral countries, and infrastructure plans. He also feels it would be positive to "extend the reformist efforts of countries like Spain to other parts of the EU."
In Mr. González's opinion Europe faces another challenge to close the gap between the EU members and with America in productivity, employment and per capita income. This would improve European living standards for EU citizens.
Progress in Spain
Francisco González anticipates an encouraging scenario in Spain. He said "In recent years it carried out a series of write-downs and structural reforms that decisively contributed to ending the crisis and started the recovery phase." The growth forecast for 2014 is above 1% and about 2% for 2015, and he believes "Spain will create nearly 400,000 net jobs in 2014-2015."
However he reminded the audience that Spain still has to tackle important imbalances. He noted that "our unacceptable unemployment figures are the biggest incentive for an ambitious reform agenda until GDP reaches at least 2.5%. That would create about 350,000 net jobs per year."
In this regard he mentioned BBVA's I am employment (a job creation initiative), which has €25 million to support SMEs and the self-employed. The initial goal is to create 10,000 jobs and the Cantabrian regional government recently joined this program.
Lastly, Mr. González asserted that "to build a new model of more competitive, sustainable and equitable growth for Spain we must work together to regenerate activity at all levels and intensify the fight against corruption. Few people benefit from corruption and we all suffer."
For the final part of his address he explained how companies can boost their competitive edge through technology. In the case of banks, customers want real-time solutions, mobility and a genuine omnichannel experience. They seek new products and services that meet their needs: ones that in their eyes can be consumed in an ultra-convenient manner.
To twitter
Francisco González: "Banks must change rapidly if they don't want to be ousted by new digital players" @bbva
If they want to compete with the digital companies that are disrupting financial business, like Google, Facebook and Amazon, "banks can no longer hide behind regulatory barriers. They must change rapidly if they don't want to be ousted by new digital players." Mr. González thinks banks must use their main competitive advantage: information. Banking is a knowledge-based industry and therein lays its tremendous growth potential.
Banks must transform from the foundations up, he added. BBVA first built a platform capable of managing the spectacular growth of transactions in all channels used by customers to shop for products. The increase in operations will accelerate in step with the generalization of digital banking. In 2006 BBVA processed 90 million transactions a day. Today this has grown to 250 million a day and he calculates the figure will reach 1.2-1.4 billion a day in 2020.
He next turned to other steps in BBVA's digital transformation. These include new products like BBVA Wallet and Wizzo that are specifically designed for new digital customers. Another step was the creation of a venture capital fund called BBVA Ventures two years ago to invest in companies that want to disrupt the financial sector. Simple's acquisition is another example. This firm offers a digital alternative to traditional banking, with customers being extremely loyal, and a highly viral environment. Yet another step in BBVA's transformation was the recent creation of the Digital Banking Area.
As a result "BBVA is reinventing itself; converting an efficient and profitable analog bank of the 20th century into a digital house of the 21st century based on knowledge," he explained. "As it travels this road BBVA is leading the way for 21st-century banking at global level."