This is the message the G20 wanted to transmit at the end of the summit that took place last weekend in Hamburg, Germany. However, it does not seem that this actually reflects the tone among the heads of state. The main point of disagreement was around the U.S. position on climate change.  They agreed on issues related to opening markets, international trade and the stability of the financial system.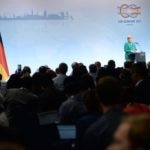 "Together we can achieve more," states the G20 official communique. German Chancellor Angela Merkel says she is satisfied with the progress made at the Hamburg summit, especially in terms of opening markets to international trade. Angela Merkel admitted to "extremely intense discussion" on trade during the summit. They eventually agreed to fight against protectionism and unfair trade practices.
However, the G20 did not get Donald Trump to change his position on climate change. In this regard, Merkel said that "when a consensus is not possible, the statement should reflect the dissidence." She regretted the U.S. withdrawal from the Paris agreement on climate change and insisted that the other G20 members maintain that the agreement is irreversible.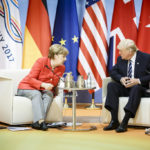 Germany's Chancellor Angela Merkel and US President Donald Trump - Bundesregierung/ Kugler
The summit also focused on the financial system. The G20 approved the Hamburg Action Plan, which will promote "greater inclusiveness, fairness and equality in pursuit of economic growth and job creation."  This is precisely one of the agreements that the representatives of companies from these 20 countries – the B20 – were calling for just days ago.
The G20 of corporations met in May to come up with recommendations, and the politicians seem to have noticed. The promotion of an inclusive and sustainable economy was one of them. This confirms the  B20's key role as "an essential link between the real economy and the authorities that have regulatory powers over that economy," as José Manuel González-Páramo, BBVA's Executive Director and Vice Chair of the B20 working group on financing growth and infrastructure, underscored at the B20 summit in May.