Garbiñe Muguruza and Carla Suarez outdid Czechs Andrea Hlavackova and Lucie Hrdecka 6-4 6-4 to win the Birmingham WTA Premier doubles title.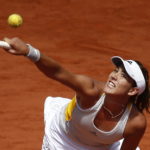 After managing to make a comeback during the first set, turning an initial 3-0 around, the winners started playing their best tennis. Determination, vitality and drive to succeed were key to overcome not-so-good prospects after finding themselves trailing three games behind so early in the match. The second set was more tightly contested, but at the end the scale tipped toward the Spanish side.
This is the fourth doubles final that Garbiñe and Carla play together and their second title, the first one on grass. Their last doubles title together was the quick court Stanford tournament in 2014. In Madrid they made it all the way to the finals, but couldn't lift the trophy.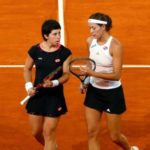 Garbiñe Muguruza and Carla Suárez conquered their first grass court title in Birmingham after outdoing 6-4 6-4 Czechs Andrea Hlavackova and Lucie Hlavackova - winners of Roland Garros (2011) and the US Open (2013) and silver in the London Olympics - on Sunday.
In their first time playing the tournament, it took the Spaniards 67 minutes to conquer their second doubles title (Stanford 2014). They've also been runner-ups in the Madrid (2014 and 15), Tokyo (2014) and Dubai (2015) tournaments.
Follow the Garbiñe Muguruza's footsteps, BBVA ambassador