Garbiñe Muguruza, BBVA ambassador, meets Francisco González after her Final in Wimbledon
The BBVA Chairman & CEO received Garbiñe Muguruza at BBVA's new headquarters in Madrid. Francisco González wanted to congratulate the player in person following her stellar performance during the first half of the current season and particularly for reaching the Ladies' Final in Wimbledon, where she played against Serena Williams. Muguruza is currently number 9 in the WTA ranking.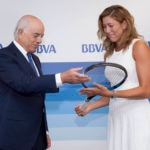 "When Garbiñe became BBVA's ambassador one year ago she was ranked 20 in the world. As soon as we met her we realized that not only did we appreciate her personal values, but that they were very similar to ours," stated the BBVA Chairman & CEO after the meeting. Francisco González also praised Garbiñe Muguruza's "humbleness, empathy, down-to-earthness, ambition and solid work ethic, traits of character that are also pivotal to BBVA's spirit" Francisco González concluded by wishing her luck for the remainder of the season and reiterated the entity's commitment to sport: "BBVA will continue supporting her as we're immensely proud that she's our ambassador wherever she goes."
Garbiñe Muguruza took the opportunity to thank the BBVA Chairman & CEO for the entity's support: "Your backing encourages me to continue growing and pushing myself. Hopefully I can come back at the end of the season to celebrate more achievements." Garbiñe Muguruza became BBVA's first global woman ambassador in November 2014.
BBVA and Garbiñe Muguruza join forces for Unicef
During the meeting, Garbiñe presented Francisco González with a signed racquet she had used in Wimbledon. "This racquet means a lot to me and that's why I want it to help in raising awareness about this joint BBVA-Unicef project in which I'm involved," said Muguruza.
BBVA has launched a fund raising campaign to support two of Unicef's educational projects. Donations in Spain will be devoted to fund a project that contributes to the achievement of the Education 2030 targets proposed by the international community. The other project seeks to improve the quality of education and reduce drop-out rates in various underprivileged areas of Venezuela.
As a sign of its commitment, BBVA will make an initial €150,000 donation to the projects and has launched a social media campaign to encourage donations. Garbiñe Muguruza's signed racquet will be raffled off among all those Facebook followers who share the campaign's promotional video and those who retweet the hashtag  #laraquetadeGarbiñe.
Donations can be made via BBVA Suma, by bank transfer or at any BBVA branch to the following account: ES69 0182 2370 43 0201527560
Follow the Garbiñe Muguruza´footsteps, BBVA ambassador