Garbiñe Muguruza's return to competition: The Rogers Cup in Toronto will be the first tournament she plays since her successful Wimbledon campaign this year. The BBVA Ambassador, who will be departing toward Canada today, will arrive in excellent physical shape and in high spirits. Ranked 9th in the WTA Tour, she hopes to make it to the final rounds of the US Open Series tournaments leading up to the last Grand Slam of the Season.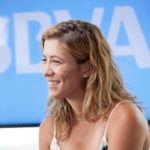 Tennis player Garbiñe Muguruza will be traveling today to Canada to play the Rogers Cup in Toronto, which starts on August 8th. This will be her first tournament after reaching her first Grand Slam final in this year's Wimbledon.  "Mil life hasn't changed at all because I do things exactly the same: I train like I've always trained, my goals remain the same," she said regarding her Wimbledon success. She also adds: "If we keep on doing things like this more good things are likely to come our way."
Regarding the amount of praise she's been getting in recent weeks, she keeps a rather cautious approach: "I've tried to isolate myself a bit, not paying too much attention to what everyone was saying and staying focused on achieving my goals." But, of all the congratulations she has received, it's her father's that she treasures most dearly. "He's always dreamed about this: that I'd make it to Grand Slam final and especially at Wimbledon. It's a major achievement," she stated.
Serena Williams' also had some nice words for her after. "I've always looked up to her. I've admired her game ever since I was a child and, for me, anything she has to say is worth listening and paying attention to," said Muguruza.
Breaking into the Top 10 of the WTA Ranking
The Wimbledon final has allowed her to break into the WTA Top 10 for the first time. Muguruza will arrive in Toronto ranked ninth and eager to keep on climbing: "I'm happy to be among the 10 best players. That's what I train for, to climb up higher in the ranking and I think I'm on the right track."
She also attributes her success to her passion and dedication to the sport she loves: "I believe that I owe part of my success to my love for tennis. I really love what I do, there is nothing I like doing more. I enjoy every training session, every tournament I play. I love it and it motivates me. I'm eager to keep on improving and climbing positions."
The experience she's gained during the first half of the season has built up her confidence on the court. "I have improved a lot in terms of always staying more positive, more focused during hard or big matches, as well as in more stressful and demanding rounds. Knowing how to handle these situations is pivotal to keep your rivals from beating you," she said.
Regarding North American tournaments and the US Open
The Rogers Cup will be the first North American Tournament for Garbiñe Muguruza. The warm-up before the highly awaited US Open. The BBVA Ambassador expects to be in perfect shape for the last Grand Slam of the season and expects to do good in order to improve her WTA ranking.
"I'm very excited and motivated about the US Open, after seeing that I could really step up against good players," said Muguruza. The transition into hard court poses no great challenges for her: "I train a lot in hard courts. Most of the tournaments in the women's circuit are played in hard court, so I'm very comfortable with it."
The US Open is one of Garbiñe Muguruza's favorite tournaments for many reasons: "All Grand Slams are very special, although it is true that the US Open has a charm of its own, being in New York and playing in the world's largest center court. Just being and playing there is already a reward. It's feeling that you are professional player."
Garbiñe will play the Toronto and Cincinnati WTA Premiers, to then rest for one week before the start of the last Grand Slam of the year in New York, which will start on August 31st.
Follow the Garbiñe Muguruza's footsteps, BBVA ambassador