Athletes' sporting achievements boost their social media profiles. The more relevant their victories, the more their followings grow. This is exactly what happened to Garbiñe Muguruza right after conquering her first Wimbledon Grand Slam; she's become the most popular top-five tennis player on Instagram.
The 23-year old player shares moments of her training sessions, competitions and events through her social media profiles, offering her fans a glimpse into more intimate facets of her life, both on and off the tennis courts. Her rise in the WTA ranking has led to an increase in her social media popularity. Some 298,190 people currently follow her on Twitter, an increase of 20.69%. In Facebook, she already has 443,471 followers. However, it is on Instagram that the BBVA ambassador's popularity has surged the most. In barely one month, she's gone from 385,947 followers to 489,128, surpassing even Karolina Pilskova, the world's current number one player, with 168,000 followers.
Garbiñe's profiles in the three main social media showcase an athlete that's probably at one of the best moments of her career so far. The videos and pics she shares show her with a host of celebrities from the world of sports and personalities such as Spanish President Mariano Rajoy, who wanted to congratulate her in person after her Wimbledon victory. However, she also has space to show herself as a young woman, surrounded by family and friends, during the more laid-back moments of her life.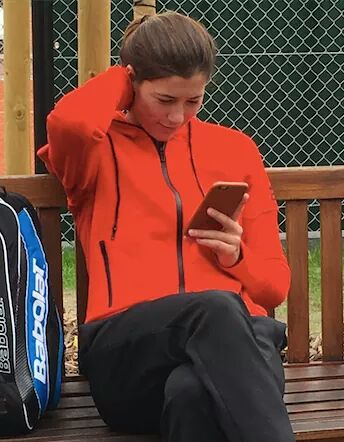 Garbiñe Muguruza updates her social networks
Being an elite athlete and a social media icon seems inevitable. Tennis players such as Caroline Wozniacki of Denmark, ranked seventh in the WTA standings, has 2.39 million Instagram followers and over one million Twitter followers. However, the social media throne still belongs to Serena Williams, with 6.2 million and 8.82 million Instagram and Twitter followers, respectively.
The interest that this year's Wimbledon winner drew among digital audiences is reflected in Google trends data: Garbiñe-related searches spiked on July 15. It's clear that lifting the silver salver has made Garbiñe shine on the internet.