We're now back in Europe and have arrived just in time for the start of spring. One advantage of being a professional tennis player is that you spend practically the whole year in places with good weather.  It's a real treat!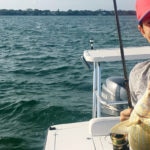 It seems like we finished the U.S. tour centuries ago. Even though I had to pull out of Miami because of heat-related illness and my tendon is still causing problems, looking back, I think the tour went well. I took a few days to rest, disconnect and leave my racquets untouched. I stayed near Miami because there wasn't much time and there are a lot of sports options nearby.
I discovered paddleboarding and sport fishing. I went fishing a couple of times. The first morning was not very successful, but we went to calmer waters the next day and I caught a bunch of fish.  We threw them back after taking a picture, as you should. I was surprised how relaxing it is and I discovered a world of competition, full of very passionate people.
After this time to relax, I went home to start treating my tendon. It can be frustrating because you can't actually stop using it; but it's getting better. What I want is to be able to play without the pain I've had in recent tournaments. This setback means that I am a little behind my training schedule and won't be able to play in the Fed Cup this weekend.  I hope to make it to Stuttgart to get the clay-court season off to a good start.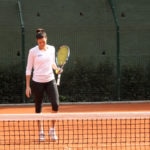 Garbiñe Muguruza trains for the clay-court season - BBVA
There will be some very important events in coming weeks, in terms of tournaments but also because I will have the opportunity to play for my fans in Madrid again. On Thursday, May 4th, before the Madrid Open, I will participate in the Tie Break Tens – a  charitable tournament at the Caja Mágica that will raise money to fight domestic violence.  If our position as professional athletes allows us to help spread the message that there is a way out of these abusive situations and that those experiencing domestic violence should report it, it will be time well spent. I hope to see you all there.
I'll continue working very hard to get to Stuttgart as strong as possible and gain momentum for the rest of the clay-court season. See you along the way! Take care, exercise and eat healthily.
Warm regards, Garbi.