An eat-in kitchen. Open floor plan. Shiplap for days. For home remodeling show junkies, the inspiration for home renovation is never ending.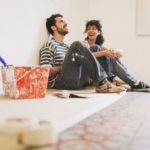 While home remodeling is not cheap, it can be a good investment and a good option when it comes to helping achieve the house of your dreams, adding space or even updating outdated areas in order to garner the best price when selling.
If you're looking to do some remodeling on your home and wondering how to finance it, a HELOC might be a good option. With a HELOC, you'll get a line of credit that revolves so you're not locked into using a specific amount, which can be helpful for those renovations that stretch out over time, or may have unexpected costs. Additionally, the repayment of a HELOC  during the draw period is interest only on the money that has been borrowed, which may mean a lower monthly payment during the draw period.
To read more about funding home renovations, including costs associated with some of the most common, click here for the BBVA Compass MoneyFit article that reviews that and more.