Forbes analyzes the global landscape to bring us a foretaste of the startups that are set to make their mark in the near future. These are the 25 companies that are on course to hit the highly-prized $1 billion ($1,000 million) mark next year. Here we highlight five of them.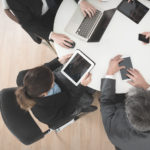 The unicorns of the future are already here. In the entrepreneurial world, everyone dreams of becoming a unicorn, that is, of being the startup that obtains $1 billion in funding.
The magazine Forbes has published a special issue with a list of the 25 names to remember if you want to stay up to date with the trends that are forecast to attract the top investors.
We've selected five startups from this list that are poised to transform technology and the funding processes in the entrepreneurial ecosystem in equal measures and across the board.
-Capital raised: $110 million
-Some investors: Redpoint Ventures, Benchmark
-Valuation: Almost $1 billion
Mobile phone operating system. Based on Android, this open code operating system frees the user from the burden of undeletable corporate software and improves its qualities. Many smartphone support Cyanogenmod, but it was its launch of OnePlus One that ensured the company 50 million customers, focusing above all on emerging markets where they have already signed major collaboration agreements. Its founders are well aware of the damage they're causing Google and the challenge they pose to iOS.
-Capital raised: $190 million
-Some investors: Lightspeed Venture Partners, Kleiner Perkins Caufield & Byers
-Valuation: $830 millon
Database platform. Provider of Apache Cassandra for companies like supermarkets or the star pupil of the VOD era, Netflix. DataStax works with 30% of the 100 largest companies in the world and has just signed collaboration agreements with companies of the likes of Microsoft, Accenture and Google.
-Capital raised: $150 million
-Some investors: Sequoia Capital, Y Combinator
-Valuation: $1.000 millon
Open platform for the development and deployment of apps. In its history, Docker has managed to ensure that the performance of its servers has attracted converts from far and wide to its platform, which functions with code "containers". With profits that have yet to hit $10 million, Docker has already managed to break through the barrier of 300 million downloads.
-Capital raised: $66,5 million
-Some investors: Sequoia Capital, Salesforce Ventures
Security in the cloud. Skyhigh networks' clients include Cisco Hewlett-Packard and DIrecTV, for whom it manages security in the cloud. This year, the company plans to hire up to 150 new employees owing to the workload they predict. Rajiv Gupta, CEO, has over 45 patents under his belt, and has sold two of the successful startups he founded.
Social Finance (SoFi)
-Capital raised: $414 million
-Some investors: Baseline Ventures, DMC, Institutional Venture Partners
-Valuation: $1,3 billion
Refinancing of student loans and mortgages. The success of the formula of its CEO, Mike Cagney, has meant that it now expects to quadruple the amount of loans, which yielded profits of up to $40 million in 2014. SoFi already has plans to go public at the end of this year.