Nothing can prepare you for the loss of a spouse or partner. The emotional burden alone is enough to virtually paralyze even the strongest and most organized people. But the logistics in the aftermath of a death in the family can also be staggering. That's why it is so important to prepare yourself and your family well in advance.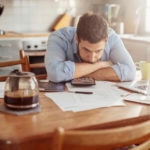 You can avoid making a tragic and stressful situation even difficult by take a few steps now:
Start building your own credit -- Establishing and maintaining credit in your own name is an important step in preparing for a life independent of your spouse. With a solid credit score, you can make financial decisions and changes on your own, and do what's best for your family.
Make sure you have an up-to-date will -- It's likely that you and your partner have discussed many of the things that would end up in a will, but if you haven't already, you should take the next step and write it down. Having a written, legally binding will can eliminate a lot of complication. If you already have a will, pat yourself on the back then check to make sure it's up to date.
Document the hard decisions in a living will -- Also known as an advanced healthcare directive, a living will differs from a traditional will in that it can take effect while you're still alive. In general, it's mean to specify your preferences regarding your healthcare if you're no longer able to make decisions for yourself. This takes the burden off your spouse and/ or your family of guessing or assuming your preferences.
Make final arrangements -- Depending upon your choices, final arrangements can range anywhere from $2,000 to $10,000. By making these choices -- and possibly making and paying for specific arrangements -- in advance, you can once again relieve your family of another set of stressful decisions.
Share financial information -- If yours is like most families, one person typically takes a more prominent role in handling the day-to-day chore of financial management. But do you both have access to online accounts and passwords? Do you both know where all of your bank account information and insurance policies are? Make sure this information is well organized, easily accessible, and up to date.
Thinking about losing your spouse is unpleasant at best, but this short list is relatively painless. Set aside some time to make decisions and share information now to make it easier in the future. Like all unpleasant tasks, this one won't disappear just because you ignore it.