Iker Casillas, Joan Roca, Carlos Soria and Garbiñe Muguruza feature in BBVA's charity campaign
BBVA will make an initial donation of 1.5 million euros, and then match donors' contributions up to an additional 1.5 million euros. All the funds collected will go to social and employment projects run by the Spanish Red Cross, the Food Bank and Cáritas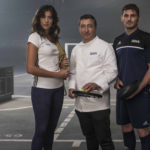 Iker Casillas, captain of Real Madrid and the Spanish national football team; the chef Joan Roca from the restaurant El Celler de Can Roca; the 75-year-old mountaineer Carlos Soria and the tennis player Garbiñe Muguruza –number 20 in the world ranking– will all share their special skills in this fund-raising campaign by proving the core message of this charity initiative: "What we do best is helping others".
"It's always good to learn something new", says Iker Casillas as he dons an apron alongside the chef Joan Roca before preparing a dish of chestnut purée and eels. "I'm going to be taught by the world's best goalkeeper", says the mountaineer Carlos Soria as he puts on his gloves and reveals his agility and reflexes between the goalposts, thanks to advice from the international goalkeeper.
Meanwhile, some meters above the ground, the tennis player Garbiñe Muguruza tests her climbing skills on a climbing wall under the attentive eye of the mountaineer from Avila, before showing the world's best chef the right way to use a tennis racket.
The campaign comprises several audiovisual segments that will be broadcast over the bank's social networks and the BBVA ambassador's own channels, under the hashtag #sabesayudar. The video is already available on youtube by clicking here.
Donations can be made through the over 3000 branch offices in the BBVA branch network in Spain or via the digital crowdfunding platform, BBVA Suma, at the following address: www.bbvasuma.com. They can be made from any bank at no extra cost. The account numbers enabled for each initiative are:
- Cruz Roja: IBAN ES 48 0182 2370 42 0000000011
- Banco de Alimentos: IBAN ES 60 0182 5469 7402 0151 5686
- Cáritas: ES27 0182-2370-40-0208511687
The money raised will be specifically dedicated to the project "Promoting the educational success of socially disadvantaged children" at the Red Cross; reinforcing the infrastructure for the modernization of the 54 Food Banks in Spain; and the support and promotion of employment among people in a situation of social exclusion by Cáritas.