Google Cloud, Amazon Web Services, Red Hat, Cisco, IBM, Genesys, Salesforce and Telefónica all form part of BBVA's strategy of technological alliances. Thanks to these partnerships, BBVA has built up ways of working together, set up expert teams and developed cutting-edge tailor-made solutions with the most innovative tech companies, which are key to its growth and digitalization plans.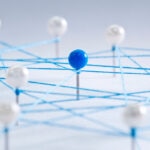 BBVA has created a network of alliances with strategic partners that go beyond just the relationship between suppliers and customers. This model has reinvented the scheme by working with common goals in a fully cooperative manner, setting up roadmaps and joint learning programs that combine experience with access to the latest technological innovations.
From suppliers to strategic partners
Amazon Web Service (AWS) is one such partner. Since 2016, when the cooperation agreement was signed, AWS has partnered BBVA in its transformation process to harness the full potential offered by the cloud. In the past year BBVA has made some key milestones in this regard, such as taking its investment banking platform to the Amazon Web Services cloud, or choosing AWS to drive the bank's data-driven transformation.
Cisco is another global partner with which BBVA has built a strong relationship over the years. The alliance signed in 2016 by the two companies has led to a new way of working that embodies the concept of working as a single team, sharing common goals and learning together in the face of the challenges of digital transformation on connectivity technologies, customer and employee cooperation and networking solutions.
Cloud-based customer service solutions is the specialty of another of BBVA's technology partners, Genesys. Thanks to close collaboration between the two companies, BBVA brought the advantages of cloud computing to its remote customer service centers in Spain and Latin America, where it has been able to cut waiting times, thus boosting customer satisfaction levels.
BBVA's alliance with Google Cloud has enabled the integration of the technology leader into BBVA's platform. This partnership has helped the bank slash the time to launch digital products, better detect cyber threats, make sustainability one of its core capabilities and compete with digital-native fintechs. BBVA's relationship began in 2011, when it adopted Google Workspace, which includes communication and collaboration tools, making it one of the first banks to use a collaborative work environment. In 2021, BBVA became the first European bank to use Chronicle, Google Cloud's cybersecurity analysis platform. BBVA and Google are working together to develop new and innovative artificial intelligence (AI) and machine learning (ML) models. The relationship has strengthened and cooperation at the training level as well. For this reason, BBVA was chosen by Google to initiate its training pilot in strategic technologies. In addition, the partners have jointly launched training programs available to Spanish SMEs to prevent cyber-attacks.
Hand in hand with IBM, BBVA managed to transform the data processing service and optimize the infrastructure consumption model. In addition, BBVA and IBM have implemented initiatives to improve energy efficiency, such as halving carbon emissions and energy consumption of the processors in its BBVA Data Centers thanks to IBM technology, or, via Kyndryl (a spin-off of IBM's infrastructure services business), installing 'cold aisles.'
Another of BBVA's key technology allies is Red Hat, with whom the bank has been working since 2016 to accelerate innovation. Leveraging modern IaaS, PaaS and hybrid cloud, BBVA manages growth in financial transactions through mobile devices and offers digital banking services to its customers around the world.
Salesforce is also part of BBVA's network of alliances. The cooperation between the companies aims to strengthen their Customer Relationship Management (CRM) strategy: to manage customer relationships more efficiently, support solution deployment and optimize marketing campaigns to deliver a unique and value-added customer experience, using Salesforce cloud computing services.
BBVA and Telefónica also use this relationship model to optimize BBVA's communications, boost the capacity of the technology network  and support cloud operations. In addition to the framework agreement, actions have been agreed to explore business opportunities with startups and to optimize BBVA's online advertising campaigns with a new Telefónica digital marketing tool.
"The supplier-customer relationship can be reinvented. BBVA's aim was to surround itself with the best digital specialists in order to use the most cutting-edge technology when considering its strategic alliances approach, which began in 2016 and continues today," says Carlos Casado, Head of Vendor Strategy at BBVA.