BBVA and Amadeus share experiences about the agile approach to working
Agile methodologies are increasingly sparking interest among those companies that are strongly committed to transformation. Learning about the newest trends and sharing experiences are the focus of meetings BBVA has organized with companies representing a wide array of domains. These organizations, if not already "agilely" structured, aim to be in the near future. Recently, Amadeus, a technology solution provider for the travel industry, visited BBVA's headquarters to collaborate with the bank's Agile Discipline in order to tackle the challenges of the new model both companies follow.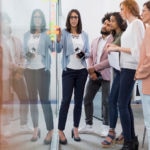 Since launching its internal transformation in 2014 aimed at becoming an agile organization, BBVA has evolved so dramatically that it has become an example for other companies. Even though the bank has been on the cutting edge of deploying this methodology across its teams, it continues to push for the growth and evolution of this model by exchanging experiences, knowledge, perspectives, and concerns with other organizations.
The realization of how interesting it would be to delve into each other's respective experiences and  create synergies for improvement dawned on teams responsible for rolling out agile at a diverse group of companies when they were attending a congress on transformation. Since then, BBVA prioritized not only the attendance of forums and conferences to learn about organizational change, but also a series of corporate knowledge-sharing sessions. The bank's primary objective with these sessions is "to feed from" the experiences of other companies and share its own.
Amadeus, a technology solution provider for the travel industry was the most recent visitor to come to BBVA's headquarters to create synergies.  Amadeus began to adopt the agile approach with some teams in 2009 and, in recent years, it has spread this way of working throughout its organization.
Fernando Santaella, head of BBVA Spain's Agile Discipline asserted that "these encounters allow us to share concerns, challenges, and tribulations, as well as to benefit from a different perspective, learn from case studies, create new ideas, and to have a constant connection to the market and the new trends in transformation."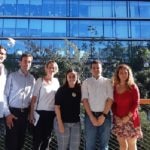 BBVA Spain 'Agile Discipline' and Amadeus Agile group at Ciudad BBVA.
During the meeting, both companies exchanged thoughts on best practices with the goal of staying at the forefront of their respective sectors. BBVA shared its strategic direction vis-a-vis its transformation and how it aims to continue promoting transformation across the business in order to maximize the value from its output and, in turn, deliver that value to its customers.
Amadeus presented its experience with transformation: it revealed how the implementation model is making an impact and the metrics it uses to measure its success. Daniel Santiago from Amadeus' Business Consulting Services division explained that "the experience has been very profitable because the collaborative attitude allows us to keep learning and improving for the benefit of our customers."
Sharing experiences with businesses and customers is key
BBVA, as a leader in process of agile deployment, has held knowledge-sharing and experience exchanges in recent months with organizations like Endesa and Telefónica.
Furthermore, BBVA supports its business clients with their own agile transformation ventures. To this end, the bank explains its experience with the move towards agile, where the learning came from, and what ideas its business customers could use internally to improve their results.
An agile Group
BBVA's success in its transformation process stems from the commitment not only of the teams directly involved, but from the whole organization. The importance the management team assigned to the transformation has been key to BBVA's success. The bank's strategy was the drawing board that steered the teams to focus on delivering maximum value to its customers: "The biggest challenge was to move from implementing agile to actually becoming an agile organization," Fernando Santaella says.
Another significant achievement has been successfully getting the organization to use the same language and to work aligned and in synch with the strategy.