Everyone leaves a online footprint that could be easy to find, simply from being a member of a digital society. But by being aware of one's footprint and learning how to control it, cyber criminals will have a much harder time finding possible victims. Here is some advice to do so.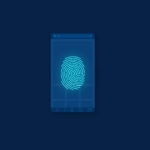 Most users are confident that they have a private life, only known to a limited group. However, there is actually a great deal of personal information available online: pictures from trips, results from public examinations, properties that belong to the family business, etc. All of an Internet user's public information makes up their 'digital footprint' -- the information about someone that is available online. It is common for all citizens in a digital society to have a digital footprint.
The first step: search for your name
Discovering a user's digital footprint is not as simple as searching for their name online, but it is the first step toward getting an idea of the person's digital trail.
However, in order to conduct more effective searches in open Internet sources, there are a series of techniques known as Open Source Intelligence (OSINT) that use open data sources on the Internet. Here we show some of the simpler recommendations, using as an example the made up name "María del Carmen García González", based on the most common first and last names in Spain. But readers are encouraged to try it out with their names and the names of people they know - even minors - to find out what information is available online:
Use double quotes ("María del Carmen García González") so that results only appear for the name in quotes.
Search for different forms of the same name to avoid limiting the results to the format in quotes: normal ("Carmen García González"); colloquial ("Mamen García"); with nicknames and with the last name first ("García González, María del Carmen").
Search for terms of interest associated with the user, for example, national ID number ("García González, María del Carmen" national ID number).
Limit the search to types of documents by adding 'type: extension' ("García González, María del Carmen" type: PDF).
When searching for profiles on social networks, first try searching without being identified in the social network, and then using the search function in the social networks to find information that is not public.
What type of information is public?
Readers are also encouraged to reflect on the volume and type of information found. As a rule, information falls into three categories:
Information published by the user, family members or people close to them:
Pictures of any kind.
Resume with their address, phone number, personal and professional information, including pictures.
Pictures or comments that reveal the location of their home.
Pictures that identify the company or sensitive information from their job.
Information on their family or people close to them.
Personal information managed by third parties:
Awards from sports, intellectual, artistic or recreational competitions, etc.
Contact information included in online telephone guides (The White Pages in Spain, for example).
Lists of names and IDs from some schools.
Information that must be public in some countries, managed by third parties:
Traffic fines.
Positions awarded in public examinations.
Scholarships and public subsidies.
Information on companies and executives registered in the Commercial Registry .
Next step: analyze the digital footprint
The next step is to investigate and play detective. The information from the initial search can be used to repeat the search to find more information. Some of the most common options include: searching using a phone number or national ID number, looking for friends on social networks, and looking for details in pictures and comments to discover places they frequent and information on their job and interests.
Leaving a trail online is inevitable, and in some cases, public information can even serve to find someone in the physical world, with all that this entails. However, by taking certain precautions and being aware of the digital footprint that is left behind, we can make it much harder for those who want to use this information for malicious purposes.
How to reduce your online presence
If any readers are concerned about reducing their digital footprint, they can follow some of the following recommendations:
Information published by the user or by people they know:
Review publications and consider deleting those that provide sensitive information: social networks, pages to build family trees, etc.
Adjust the privacy settings to make sure profiles are not public, and check to see who can see each kind of publication.
Try to remember all the websites where profiles were created that are no longer use. Close them using the settings on the platforms (websites to stream multimedia content, video game forums, online stores, etc.).
Personal information managed by third parties:
The solution lies in politely requesting the other party to remove the information from the Internet.
In the European Union, the law sides with users, who have extensive rights that protect the deletion of information published by others. In Spain specifically, the Spanish Data Protection Agency (AEPD) has created a procedure for the urgent removal of publications that contain especially sensitive or private information.
Information that must be public in some countries, managed by third parties:
Due to the transparency required of public bodies, some information cannot be eliminated, but it can be removed from search engine results. This is because search engines only produce information that has been previously censored, the rest is part of the 'deep Web'. To ask a search engine to stop showing certain content, use each browser's settings. For Google Chrome, fill out this form.
Finally, it's important to remember that we have only covered the public information someone could find online using a name or limited information, and not information that is voluntarily shared on chats, apps or private forums. Never share financial or medical information, private pictures, home addresses, etc. as you never know for sure who is receiving the information and what they will do with it. Remember, you are the best defense!