The relationship, amusingly portrayed as a love-in between big banks like BBVA and fintech start-ups, was the subject of special Valentines Day show in London last week.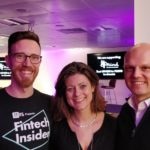 Hosted by digital banking consultants 11:FS, it featured some of the leading players in the sector including BBVA's Global Head of Client Solutions, Derek White. The show, which is broadcast in more than 155 countries, was centred around how and for what reason the two types of business will go into partnership - what each partner in the relationship gets in return, and why, sometimes, these love-matches go wrong.
But it was also, importantly and chance for some fun and a tongue in cheek look at the European fintech ecosystem. To set the scene, 11:FS co-founder Simon Taylor first noted how for Derek, who had several businesses he had worked for also talking part in the show that night, it must have seemed like he had walked into a bar full of his 'ex's'.
Kicking off their interview, Taylor first asked White to explain BBVA's approach to  collaborating with fintechs.
For White, the rationale for joining forces is simple: the digital age means - rightly - that the customer should be able to do what they want with their money and data, how they want and in a way that suits them best. Often, as with BBVA's successful range of products and services - from the award winning Bconomy function to our in-house fintechs like Denizen (the world's first truly global bank account) - the big banks can themselves offer customers services that make their lives easier and support better decision making.
But not always - sometimes because the innovation that stems from the fintech sector has thought up something groundbreaking, or sometimes just because it is a niche product that doesn't have the scale to fit with a big bank's business model.
Taylor asked: "Does that mean you have to work deeply with one or two fintechs and specific ideas, or widely with lots. How does it work?". For White the answer was that fintechs typically start with one product or one customer problem in mind and go build other ideas off this.
He added: "What's great about this is these fintechs are solving individual kind of discreet customer challenges. But the problem a lot of fintechs are having, globally, is scaling beyond that narrow business model they start with, and how to do that brilliantly.
Four keys to collaborate
"That's where the bank can help - the access we have to customers, to partners, to investors - all of this we can bring to the table in a way that is often far faster for the startup than if they sought this on their own."
Asked to explain BBVA's collaboration model, White said: "As a large organisation looking at how we do engagement in ecosystems around the world, there are four key things that we look at. You can describe it - to go with the love theme for tonight - as develop, acquire, partner and invest - and you can think of getting to first, second, third or home base!'
Taylor replied: "So, if you are matching these things all the time, then what qualifies as better or worse - how do you know which base you want to get to?. You know your priorities, but there has to be a human level too, no?" To which White answered: "Absolutely. When I was first making investments, I got some really good advice that you had to invest in the team, the team and the team. It was the people who mattered.
"So it has to be the team but then after you get the team, then you have to get the product and ask is that product amazing. But then, if you get the team and the product is amazing, the next question is, are the customers coming."
That, White said, was so critical because sometime you can get enamoured by people's charisma and their drive, but when you get into the substance, you sometimes see the product itself isn't quite there. The customers aren't coming.
He added: "BBVA has launched seven ventures in the past couple of years, but we have also shut down two because despite the talent involved in these business, it became clear the product didn't work for customers. And that's OK, you know. It's OK for a small percentage to fail, because we get hugely important learnings from this which we take to the next investments."
Taylor then asked about the two way relationship, and was it always about how strong the technology was - and indeed how do you decide what gets brought into the core of the bank or at least closer to it.
To which White answered that yes, the technology, the ideas, the user experience they championed was all important, but it wasn't just that. He said: "Tying back to the charisma and substance idea, on the charisma side, one of the start ups we acquired had this amazing values approach on a human level. The culture and the company is absolutely incredible. That acquisition led to us as, a 180-year-old company, rewriting our overall purpose, developing new values and behaviours for the entire company.
"The cultural impact of that charisma coming into the company was huge."
Concluding their session, Taylor asked the BBVA executive what final advice he would give the 180 people in the room that night, and the tens of thousands more that listen to the show. White said: "The most important thing, as we move from closed to open, is the ecosystem we all build together. "So please, keep on connecting and keep on paying things forward and supporting each other's growth so that ultimately both us and the customers come out on top."
You can listen to the whole show here.