34 years old man with a college degree and a master's. He has spent time working as an employee yet always wanted to create his own business - and he has established more than one startup. This is the profile of a Spanish entrepreneur described in the new study by South Summit, which will hold its next event on October 2nd - October 4th, with BBVA's support.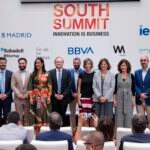 "Entrepreneurship is something that is chosen, not a desperate way out," the founder of Spain Startup-South Summit, María Benjumea, said resoundingly at the presentation of its traditional Entrepreneurship Mapping, which marks the start of this Madrid conference featuring entrepreneurs, investors, institutions and corporations from around the world.
BBVA has been supporting this event since it first started six years ago, as an initiative that fits perfectly with the way it understands and connects with innovation. "BBVA supports entrepreneurs because they are a source of wealth and employment. But we also know that transformation is not a journey that can be undertaken alone. If we are in contact with startups, we learn much more quickly," maintains Elena Alfaro, the Head of Data and Open Innovation at BBVA Client Solutions who stressed that the bank has launched between 25 and 30 proof of concept tests with new fintech companies in recent years.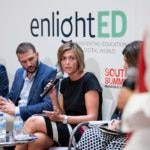 Elena Alfaro, Head of Data & Open Innovation, Client Solutions BBVA, during her presentation at the event.
"And lots of them have grown in scale!" underscored Alfaro, who recognizes that collaboration between large corporations and startups is not easy, and that there was a huge learning process throughout the organization in order to be successful in the projects. The steps BBVA has taken in this regard have been possible thanks to its firm commitment to open innovation. This includes constant contact with the innovation ecosystem, which is starting to reach maturity in Spain, according to South Summit's analysis of the 1,720 startups from 115 different countries that presented projects in its competition.
The study shows how entrepreneurship is something most entrepreneurs choose, a passion. 54 percent of the analyzed entrepreneurs had already been entrepreneurs before. And 14 percent of these entrepreneurs have founded more than two startups, not counting the current one. That's why they are referred to as "serial entrepreneurs", as this type of professional creates companies, but once they are running and their business model is tested, they prefer to leave it in the hands of a management team in order to start a new endeavor.
Thus, the profile of an entrepreneur in Spain is that of a serial creator of businesses, as those who repeat the experience outnumber those embarking on the adventure for the first time (47 percent). In general, entrepreneurs tend to be male (81 percent) - a huge gender gap remains - with an average age of 34, a college degree (92 percent) and a master's (72 percent) and they decide to launch a project because they always wanted to start a business (63 percent). In fact, 57 percent of Spanish entrepreneurs have quit a job to create their startup (very similar to the European average of 61 percent) and just 1 percent was unemployed when deciding to start a business.
Learning from failure
Another peculiarity of entrepreneurs is that failure doesn't mean they throw in the towel. Serial entrepreneurs recognize that 58 percent of their previous startups failed, but that doesn't stop them from trying again.
In fact, the data show that the more companies they found (even if they end up closing down) the more likely they are to have a profitable business. The probability of failure when creating a startup for the first time is 45 percent, but after launching three startups, this number drops to 16 percent.
All these entrepreneurs will meet at the South Summit, which will open its doors from October 2nd - October 4th in Madrid. BBVA is supporting this event, featuring the distinguished participation of BBVA Group Executive Chairman Carlos Torres Vila, where he will announce the winner of Open Talent Spain, the group's fintech competition.
"Entrepreneurship pushes large corporations to get out of their comfort zones to tackle business challenges from new angles. South Summit helps us to be close to the talent and new ideas that will be able to collaborate with us to transform financial services," concludes Elena Alfaro.